Body in River Usk confirmed as Bristol teenager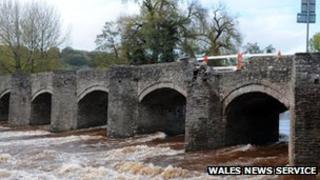 A body found in the River Usk in Powys is that of a teenager who police were searching for as part of an investigation of quad bike thefts and a crash.
Dyfed-Powys Police said the body has been formally identified as 17-year-old Daniel Collins from the Bristol area.
Rescue teams had been searching the river for four days before a body was found on Monday.
It is thought Mr Collins may have been involved in a collision in Crickhowell.
The search came after officers investigating quad bike thefts in the area gave "brief pursuit" to a vehicle which crashed into the historic Crickhowell Bridge on Sunday, 30 October.
The bridge, which dates back to 1706, suffered damage to a wall and a parapet.
Three arrested
Dyfed-Powys Police said its officers were acting on a report that two quad bikes had been seen travelling in an erratic manner along with a Citroen car.
Officers found one quad bike near to the River Usk having collided with the boundary wall, said the force.
The other quad bike was found abandoned nearby. The Citroen vehicle collided with the bridge in Crickhowell.
Dyfed-Powys Police said a total of three males had been arrested in connection to the incident and were currently on police bail.
The police search - including a helicopter, dog team and dive team - had focused on the river and bank, said the force.
The matter has been referred voluntarily to the Independent Police Complaints Commission (IPCC), said Dyfed-Powys Police.