Minister says S4C viewers will notice cuts on screen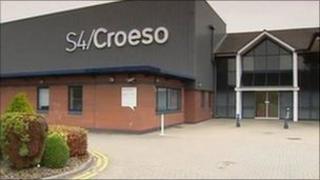 Viewers will see the impact of funding cuts to S4C on their television screens, Wales's heritage minister has warned.
Huw Lewis said job losses in the industry were "inevitable" as a result of a budget cut to the broadcaster.
During a Senedd debate, he told AMs the Welsh government welcomed a deal between S4C and the BBC.
It guarantees funding up to 2017 and gives the BBC a say in choosing members of the channel's authority.
Mr Lewis said that UK government funding for the channel was being cut from £102m this year to £75m in 2015.
The services the channel provides will be noticeably different as a result, Mr Lewis said on Tuesday.
"The level of cut imposed by Westminster will eventually find its way into the level of service viewers will see on their screens and that will be a significantly less-extensive service in one way or another than was provided until very recently," he said.
He said the announcement that 20 jobs will go from Cardiff-based television company Boomerang, as a result of cuts at the BBC and S4C, was a sign of things to come. Further losses in the independent television sector were "inevitable".
'Independence'
In future, the bulk of the channel's funding will come from the licence fee and Mr Lewis said an agreement with the BBC "protects the editorial and managerial independence of S4C".
Plaid Cymru AM Bethan Jenkins used the debate to call for the devolution of broadcasting to Cardiff Bay.
Centralising power was "old fashioned" and "ineffective", she said.
Conservative AM Suzy Davies said that the case for devolution could be sympathised with if S4C was merely a tool to promote the Welsh language.
"But it is not just a tool to promote and grow the Welsh language. It is a broadcaster, with scope to be more," she said.
Liberal Democrat AM Aled Roberts said that "maybe all the discussion at Westminster has shown the future of S4C is not safe in the hands of London politicians".