Powys secondary schools to stay open in shake-up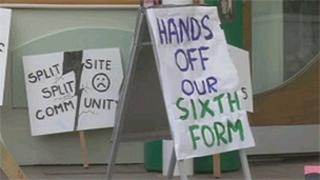 All secondary schools in Powys are to remain open and no sixth forms will close, under plans to reorganise education in the county.
Instead, Powys council said it wanted the 13 high schools to form closer relationships to work together.
It comes after concern that some schools would merge. A consultation into the plans will be held.
Meanwhile, funding has been increased for a groundbreaking Ceredigion school for three to 19-year-olds in Llandysul.
Forming 'families'
The details of Powys' secondary schools reorganisation were revealed at a briefing to head teachers, school governors and councillors on Tuesday.
The council said that instead of closures, schools will be placed in 'families' and be expected to co-operate more closely with other 'family members'.
Councillor Stephen Hayes, cabinet member for learning and leisure, said change was needed during challenging times for the area's schools.
"Education services across the country are facing a serious and challenging future with demanding national curriculum requirements, falling school numbers and severe financial pressure," he said.
"Without change our ability to sustain the current high-quality education in Powys is under real threat."
Welsh-medium education
There is no provision for a Welsh-medium secondary school under the plans but Welsh language education would be enhanced in some schools, it said.
In particular, it would concentrate the delivery of post-16 Welsh-medium education to three schools - Builth Wells, Caereinion and Bro Ddyfi - which would enable the range of courses to increase.
Those schools would also provide Welsh medium provision for 11 to 16-year-olds, along with Llanfyllin and Brecon.
The council also intends to improve the way it delivers education to pupils after their GCSEs and would introduce a new central commissioning body to manage post-16 courses.
"The body will ensure courses are commissioned according to need and that numbers match available funding," Mr Hayes added.
"Central co-ordination will ensure that courses are delivered to sustainable groups, reduce duplication and use resources in an efficient and effective way."
The plans will be considered by Powys council's cabinet on 22 November and a formal consultation will be held next summer.
'Super-school'
Meanwhile, Ceredigion council's cabinet has agreed to increase funding for a new "super-school", where pupils aged from three and 19 would be educated under one head teacher.
Ysgol Gynradd Gymunedol Ffynnonbedr and Ysgol Gyfun Gymunedol in Lampeter have been working together in a pilot, but the merger could be made permanent.
The new groundbreaking school, if approved by the Welsh Government, will be the first purpose built school of its type in Wales.
The Welsh Government have cut grants for capital funding under the 21st Century Schools programme from 70% to 50%.
So Ceredigion council will have to make up the shortfall to provide £16m in funding. The total costs of the new school will be around £32m.
Four primary schools will close under the plans, as well as Ysgol Uwchradd Dyffryn Teifi:
Coedybryn
Aberbanc
Pontsian
Ysgol Gynradd Llandysul.
Ysgol Capel Cynon has already closed because of a lack of pupils.
The Welsh Government are expected to announce which schools have been awarded funding under the 21st Century Schools fund during the week beginning 5 December.