Benefit cuts hit Wales most, says Sheffield research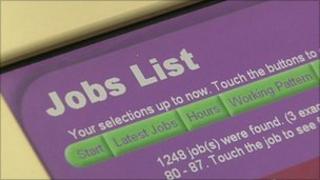 Wales will be the country in the UK most affected by incapacity benefit change, according to new research.
Up to 75,000 people of the 180,000 in Wales on incapacity benefit will not be eligible for the new form of the benefit in 2014, it estimates,
Researchers at Sheffield Hallam University believe 20,000 of those will be moved onto Job Seekers Allowance.
The UK government said the changes better support those in genuine need while encouraging people into work.
The university report says benefit reforms will have the largest impact on former industrial areas "where local economies have been struggling for years to cope with job losses and where the prospects of former claimants finding work are weakest".
It says Merthyr Tydfil will be most affected of all, as the area currently has the UK's highest rate of people claiming incapacity benefit.
Blaenau Gwent, Neath Port Talbot and a number of other valley areas will follow closely, it says.
The report follows from research the same team published in July which claimed that the introduction of a tougher medical test and more widespread means-testing from next April means 60,000 people will no longer be entitled to incapacity benefit.
The new research claims this is likely to rise to 75,000 by 2014 once new claimants denied benefit are included.
Researchers claim 45,000 people are set to be "pushed out of the benefits system altogether" leaving them reliant on other household members for financial support.
'Written off'
The co-author, Professor Steve Fothergill, said: "The reduction does not mean that there is currently widespread fraud, or that the health problems and disabilities are anything less than real.
"The estimates show that the coalition government in Westminster is presiding over a national welfare reform that will impact principally on individuals and communities outside its own political heartlands.
"They will impoverish vast numbers of households and cause untold distress in countless more. The incapacity benefit numbers need to be brought down, but this is not the way."
UK Employment Minister Chris Grayling said: "It's clear that millions of people have been written off for years left on incapacity benefit with no real support to get into work.
"That's why we are retesting people to see if they have the capacity to work.
"Our changes will make sure those in genuine need get more support and those who could and should be working are given the opportunity to do so."