Llandudno west beach fails test as 88 in Wales pass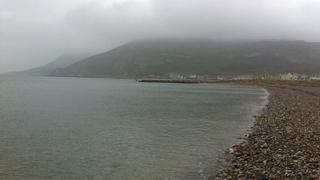 Only one beach out of 88 tested in Wales has failed to meet basic water quality standards this year.
Llandudno west shore was one of 10 beaches across Wales and England which did not meet minimum requirements for public health and the environment.
Dwr Cymru Welsh Water said the Llandudno sample was taken when heavy rain may have affected the result.
Figures also showed 82 beaches met the stricter European guidelines which are used when awarding Blue Flags.
Environment Agency Wales director Chris Mills said: "Bathing water quality around Wales has improved dramatically over the past 20 years and this is clear in the results we are seeing today.
"We have achieved a lot, however there is still more we can all do to drive further improvements in water quality.
"Everyone needs to play a part in this, and we are working closely with farmers, water companies, industry, local authorities and communities themselves to do more."
Welsh Water said the Llandudno west shore sample was taken in September when there was heavy rainfall in the Conwy Valley.
"Heavy rain can cause huge numbers of bacteria to be washed off agricultural land into local water courses," said Welsh Water.
"It can also trigger the operation of our combined sewer overflows, which act as release valves when the sewerage system becomes overloaded, helping to reduce the risk of flooding of homes.
'Excellent news'
"Occasionally these events can combine and lead to high bacteria levels at beaches."
This year, 98.9% of Welsh beaches met the mandatory standards compared to 97.8% in England, while 93.2% of Welsh beaches met the stricter European standards compared to 88.2% in England.
The beaches which failed to meet the European guideline were: Aberdyfi, Criccieth, Llandudno north shore, Llandudno west shore, Rhyl and Swansea Bay.
Welsh Water said it was excellent news that more Welsh beaches than ever had met the EU standard for bathing water.