RSPCA raises concern over puppy farms in Wales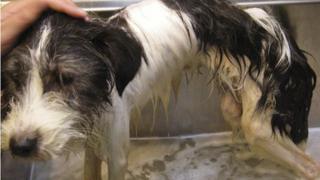 The RSPCA has highlighted concern about puppy farms and "irresponsible breeders" in Wales.
The charity's Animal Welfare Indicators Wales report found nearly 2,000 dog breeding establishments in Wales.
Environment Minister John Griffiths said it was the Welsh government's intention to legislate on dog breeding in 2012, calling it an "emotive issue".
The RSPCA also said 646 dogs came into its care in 2010, while 8,039 strays were dealt with by Welsh councils.
The RSPCA report, Animal Welfare Indicators Wales, is the first of its kind as the society has previously published joint England and Wales reports.
It covers various issues, including dealing with cruelty to animals, and also offers a wider view on greyhound racing, the welfare of free range hens, as well as puppy farms and the status of dangerous dogs.
South Wales Police, working with the RSPCA and local authorities, has seen a large increase in the number of incidents involving dangerous dogs in the past five years, says the report.
There were two reported cases in 2007 - 103 in 2010, and 91 so far in 2011.
Last year, the RSPCA responded to 60,000 calls on its cruelty line. But there were fewer convictions in 2010 under the Animal Welfare Act than the previous year - down from 204 in 2009, to to 147.
The RSPCA wants the Welsh government to introduce stricter regulations in the dog breeding industry
It calls for puppy farm owners to employ a minimum number of staff to care and exercise dogs, and make microchipping mandatory.
The report says: "There are a number of issues associated with the breeding of dogs that are of great concern to the RSPCA.
"These include welfare and health issues linked with the breeding of pedigree dogs, irresponsible breeders or 'puppy farmers', and current standards for licensed breeders."
'Negative opinion'
It calls for less bad practice by puppy farm owners, for them to employ a minimum number of staff to care and exercise dogs, and make microchipping mandatory.
Last week, the Welsh Dogs Advisory Group, set up to represent the interests of hobby breeders, submitted a petition to the Welsh government calling for an inquiry into the "enforcement of animal welfare standards in the puppy farming industry in south west Wales".
Group secretary Colin Richardson said different authorities in Wales regulated breeders differently rather than a single approach, which was an issue legislation could resolve.
"Because there is so much variance between councils and their license and what they require, we are calling for an independent inquiry," he said.
"Let's all step back, let's stop throwing mud at everybody and get someone independent to look at what's going on.
"We would like an independent inquiry into licensing of puppy farms because it's giving such a negative opinion in Wales of Wales and abroad."
Bethan Jenkins, Plaid Cymru AM for south west Wales, called on the Welsh assembly's petitions committee - which was set up to consider petitions and decide what action should be taken - to carry out an investigation.
"This is something that we need to look at seriously as a petitions committee," she said.
Mr Griffiths has added his voice to the RSPCA report and will speak at a launch event at the National Assembly's Pierhead building in Cardiff Bay on Tuesday.
"Dog breeding and the emotive issue of puppy farming, or 'unlicensed breeders', emerged as a clear front-runner in the need for an urgent review of the existing legislation," he says in the report.
Antoinette Sandbach, Conservative rural affairs spokeswoman said that big puppy farms - those containing between 150 to 200 dogs - clearly needed regulation.
But she warned: "What we have to be very careful about is that legitimate family pets do not then become the target of inspection or indeed working dogs in a farm setting."