Pat Rogers' three Bonfire Night great-grandchildren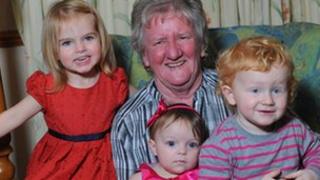 Pensioner Pat Rogers, 72, has three good reasons to remember the 5th of November.
For one of her great-grandchildren has been born on Bonfire Night in each of the last three years.
Hallie-May, Caden, and Bella-Lee celebrate their third, second and first birthdays on Saturday.
The former pub landlady, of Brynmenyn, near Bridgend, said: "We all live nearby and it is lovely to have such a nice and loving family so close."
She said: "It's an amazing thing that they were all born on the same day - and it being Bonfire Night too.
"It was special when Hallie-May was born, I thought it was funny when Caden came along a year later - and when Bella-Lee was born on the same day again I couldn't believe it.
'Huge coincidence'
"It is chaos for me. I have to make sure I see them all to give them their cards."
Their mothers are cousins Gemma Phillips, Toni and Kelly Rogers, who all live within two miles of each other in the south Wales village.
Bella-Lee's mum Gemma Phillips said: "It was a huge coincidence that we all had our babies on the same day. We are all really close and so it has been extra special.
"The children are all still really young at the moment, but from next year we're going to be holding a joint party for them all.
"It is like having an early Christmas with all the presents we have to buy for each other."