Thieves blamed as councils end change at car parks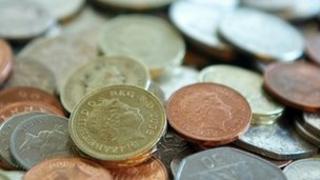 Most councils in Wales have done away with car park machines that provide motorists with change.
They say the machines are targeted by thieves and are too costly to maintain.
Figures obtained by BBC Wales suggest councils are collecting up to £50,000 each in over-payments a year.
Motoring organisations question whether it is ethical and say any surplus should be spent on maintaining car parks and roads.
The BBC Wales news website submitted Freedom of Information Requests to all 22 local authorities in Wales.
Only Swansea and Newport said they still had machines that provided change and these were only in secure areas such as multi-storey car parks.
Both also had machines that did not provide change.
Debit card
Three councils, Blaenau Gwent, Gwynedd and Torfaen, said they did not have any car park ticket machines at all.
The other 17 said all their machines did not provide change. All were asked for the surplus they collected last year.
Only Carmarthenshire and Bridgend said those figures were available - £50,566.89 and £38,265 (approx) respectively.
Most councils said it was clearly stated where no change was provided. Some said they allowed motorists time to get change if needed and Cardiff said people could pay by debit or credit card.
A spokesperson for Cardiff council said: "In order for the council's pay and display machines to provide a change facility, the machines would have to be continually stocked up with large sums of money.
"This could be become a target for thieves so a procedure is in place whereby the machines are emptied regularly to reduce the risk of theft as there is no financial incentive for anyone attempting to break into the machines."
Carmarthenshire council said it had done away with change because the machines were continually raided.
It said, for example, ticket machines at Pembrey Country Park had been damaged within minutes of coins being loaded and it was saving money by not having to repair them when broken in to.
Fair deal
Prof Stephen Glaister, director of the RAC Foundation, said: "While we understand the arguments of councils, this is an era where every penny really does count and you have to question whether it is ethical to short-change drivers this way.
"When all the overpayments are totted up the sums being talked about are significant.
"At the very least local authorities should promise to spend the over-payments on things like filling in potholes rather than letting the money disappear into their general coffers and so adding insult to injury."
A spokesman for the AA said motorists were not getting a fair deal.
He predicted parking charges and the surplus councils made from not providing change would rise as local authorities looked to raise more funds.