Abergavenny mart campaigners pin hopes on Victorian law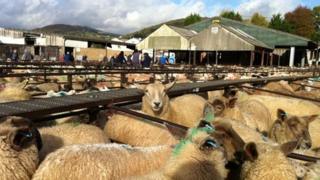 Campaigners fighting to retain a historic livestock market in its town centre location are pinning their hopes of victory on an obscure law.
Acts of Parliament from Victorian times oblige Monmouthshire council to provide a market in Abergavenny.
The council, which wants to develop the site, has asked the Welsh government to repeal the law.
It says it is minded to do so but has asked the public for its views, giving objectors one last chance.
Planning permission has already been granted for a supermarket and library on the site.
Now Monmouthshire council has asked Welsh Local Government Minister Carl Sargeant to repeal the Abergavenny Improvement Acts of 1854 to 1871.
The Keep Abergavenny Livestock Market (KALM) campaign told BBC Radio Wales' Eye on Wales the mart draws both farmers and tourists into the town's many shops and cafes.
KALM has already lodged its objections to the repeal of the acts although member Barry Greenwood is concerned members' views will not be taken into account.
"Unfortunately the minister is taking an extremely narrow view of this," he claimed.
Fit for purpose
"He seems to be ruling out the possibility of any arguments which would provide a case for why the Abergavenny Improvement Acts should be kept.
"He is, in effect, saying that virtually all the issues to do with this are really the responsibility of Monmouthshire council, which he cannot take into account.
"It's a bit silly having a consultation and then ruling out the possibility of the debate that should take place as part of that consultation so we're very worried about this."
But Monmouthshire deputy leader, Bob Greenland, argues that the market is no longer fit for purpose and that bringing in a supermarket would help regenerate the town.
He is hopeful that as the council, which owns the site, has agreed to built a replacement livestock mart 10 miles away near Raglan, the minister will agree.
"We have given the farmers a guarantee that we'll continue to offer a market for them to trade from. Under those circumstances, surely this act is redundant," he said.
"There is no longer a need to guarantee a market in the centre of Abergavenny. There is a need for the farmers to have a market within Monmouthshire."
Public consultation
In a written statement last month, Carl Sargeant confirmed that the question he had to consider was not whether the livestock market should move out of Abergavenny and a supermarket move in.
"I need to consider whether Monmouthshire council should remain subject to the requirements that the Acts appear to impose," he told AMs.
"So far as we know, no other local authority in Wales, and possibly beyond, is subject to such restrictions. All other local authorities can operate livestock markets under powers in the Food Act 1984."
"That does not mean I want the current market site to close, or that I agree with the council's decision.
"It would just mean that Monmouthshire council would be in the same position as any other local authority."
Public consultation on repealing the Abergavenny Improvement Acts closes at the end of this month.
Eye on Wales is broadcast on BBC Radio Wales at 13.00 GMT on Sunday 6 November.