Climbing wall for reprieved Harlech swimming pool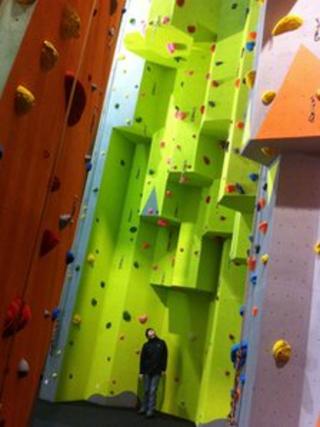 A climbing wall has opened at a swimming pool that was threatened with closure.
Campaigners secured funding to save Harlech pool after Gwynedd council said it could no longer afford to run it.
Now community company Harlech and Ardudwy Leisure, which runs the pool, has gone a step further with the wall and a refurbished cafe.
It hopes the 10.5m (34ft) wall will be an all-weather attraction for families and seasoned climbers.
There is also a 4m bouldering wall for children and climbing novices.
Richard Holland, one of five volunteers who run the not-for-profit company, said not many swimming pools make a profit these days and it became clear they needed to diversify to attract more users and income.
"We now have a climbing wall and a bouldering wall next to the swimming pool, with a cafe and terrace overlooking Harlech Castle," he said.
'Pretty challenging'
"So visitors to Harlech have somewhere to go during the rain.
"And of course we get a lot of climbers who live in the area and who visit the area, so it is great for them too."
He said the money for the walls had come from £500,000 capital funding from the Big Lottery, and a £300,000 revenue grant from the assembly government.
Climbing classes will be held for those who want to learn.
"What we have now is a unique climbing wall - we've had a lot of interest from climbers about it," said Mr Holland.
"The main climbing wall is suitable for novices right up to being pretty challenging for professional climbers."
There was an outcry after the council said in 2007 that Harlech pool had "reached the end of its life" and closing it would save £160,000 a year.