Tributes to Welsh Jewish leader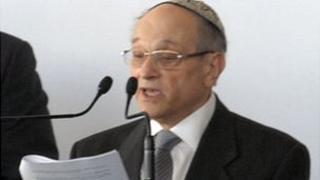 Tributes have been paid after the death of a prominent member of the Jewish community in Wales.
Alan Schwartz, who was chairman of the South Wales Jewish Representative Council, died on Wednesday.
Mr Schwartz, who lived in Cardiff, was credited for helping bring different religions together. He received an MBE for his work in 2003.
Aled Edwards, who worked with him on the Interfaith Council for Wales, said tributes had come from all faiths.
Mr Schwartz was part of the Welsh interfaith forum - a group of religious leaders and politicians - which was set up in the wake of the 11 September terrorist attacks in America to bring communities together.
He also worked with the Cardiff Interfaith Association, the Cardiff Council of Christians and Jews, the Interfaith Network, which is the national body of the Interfaith Council, and was the Jewish representative on the Interfaith Council for Wales.
'Opening conversation'
"He was very, very reflective of his own Jewish tradition and he was very Jewish in his background," said Mr Edwards, who is chief executive of Cytun, the organisation which brings churches in Wales together.
"I think his main contribution to Wales was that he did, in a sense, bring the Jewish community into conversation with all the major faiths in Wales.
"He wanted to bring faiths together. His funeral was reflective of that. I was there as a Christian and there were many there from the Muslim community too. That was reflective of Alan."
Mr Schwartz, whose local synagogue was in Cyncoed, Cardiff, was committed to his work with the Interfaith Council for Wales, whose members also include those from the Christian, Muslim, Jewish, Sikh, Baha'i and Hindu communities.
'Warm and generous'
"Alan was very, very good at inviting us to the synagogue and making his faith open to all of us," said Mr Edwards.
"He made a huge difference. When faith communities were faced with great challenges, he helped bring people together.
"That was made far more possible because of Alan - he was a warm, generous man and had that faith value to that generosity."
Mr Schwartz's funeral was held within 24 hours of his death, in accordance with the Jewish tradition.