London 2012: Lynn Davies hopes torch will 'engage' Wales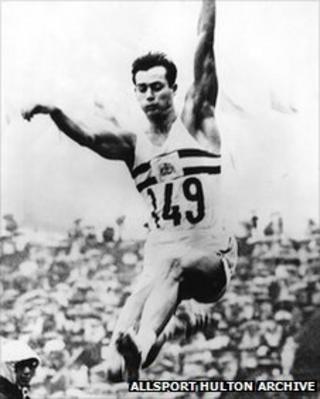 Olympic long jumper Lynn Davies has welcomed the news that the 2012 torch relay will visit the village where he grew up in south Wales.
More than 80 Welsh towns, villages and cities have been promised a glimpse of the torch next May.
Davies, president of UK Athletics, said he had a fantastic reception on his return to Nantymoel, near Bridgend, after winning gold in Tokyo in 1964.
He hoped the 2012 torch relay would "engage" the people of Wales.
Full details of the torch relay route have been confirmed by Locog, the organising committee of the 2012 London games.
Great memories
"It's great that the torch is coming all around Wales, to Cardiff, Swansea, Aberystwyth and north Wales," said Davies.
"But to come to the small mining community where I'm from is wonderful," he added.
"It's wonderful that the young people there will be able to watch this quite iconic Olympic torch being carried through the Ogmore Valley and through Nantymoel itself.
"If I can, I'd love to be there because of the great memories of growing up there as a young boy."
Known in his homeland as "Lynn the Leap", Davies recalled the welcome he received on his triumphant return to Wales after his gold medal winning performance nearly 50 years ago.
"It was astonishing - when you're 12,000 miles away in Tokyo you don't realise the impact it has," he said.
"There were quite a few thousand people at Cardiff railway station and then we travelled to Nantymoel - they had flags out and the small street where I was born was full of people.
"The reception and the welcome home was quite overwhelming but an indication of how much the Welsh people valued my winning in the Olympics - it was a great memory."
Playing a part
Davies, one of the UK's Olympic ambassadors, is confident that the torch relay will bring the Olympics home to ordinary people.
"I'd like to think that all of Wales feels engaged in the Olympic Games - they're in London, only a couple of hours away, we have the women's football kicking off the first Olympic event in Cardiff, and we have the Olympic torch coming through.
"I think it's wonderful that rather than just the main cities it's also coming through some of the smaller villages.
"That gives the young people the feeling that although the Olympic Games are in London, they are playing a small part in it.
"I think it's going to be very, very exciting next year - as we get closer to the Games we really will begin to feel an involvement in them."
As president of UK Athletics, Davies is also keen to stress that the people of Wales will be able to cheer on several local heroes.
"We've got people like Dai Greene, a world champion in the 400m hurdles, Rhys Williams and Christian Malcolm competing at that level.
"A big part of engagement is that we do have sportsmen and sportswomen from Wales competing - certainly Dai Greene, the way he's run this year, has put down a marker as one of the favourites for a medal next year."