Three treated after Aberpergwm mine incident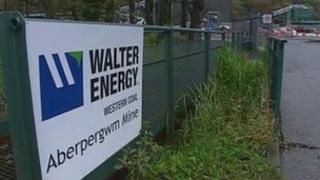 Two men have been taken to hospital and another treated for shock after a collapse at a mine.
It took an hour to rescue the men from the Aberpergwm colliery near Glynneath, Neath Port Talbot, using an underground lift system.
A trench is believed to have collapsed at around 03:06 GMT, three to four miles underground. One man suffered back injuries.
Neath MP Peter Hain said the US-owned mine had an "admirable" safety record.
Two men were taken to Morriston Hospital but are not believed to be seriously injured.
"Three people were released, there were two casualties who were taken to hospital," a Mid and West Wales Fire Brigade spokeswoman said.
"The third person was released after receiving treatment at the scene."
Fire and rescue crews stood by with lighting equipment and gave assistance until receiving the order to stand down at 05:58.
The incident follows the deaths of four men at the Gleision mine - 14 miles away in the Swansea Valley - in September.
David Powell, 50, Charles Breslin, 62, Philip Hill, 44, and Garry Jenkins, 39, died after they became trapped in the mine which was engulfed by water on 15 September.
A miner was also rescued last month from the Unity pit, just over a mile away from Aberpergwm, after he became trapped under rubble following a small roof collapse.
He was not seriously injured.
Aberpergwm is believed to employ around 230 people and to have coal reserves of around 6.8m tonnes.
It first opened in the late 19th Century, and at its height during the 1930s more than 1,500 men were employed there.
It closed in 1985 but reopened a year later under private ownership. It is now owned by American firm Walter Energy.
Neath MP Peter Hain said any injury to any miner was a cause for concern.
"This latest incident is endemic in mining, which is a risky activity," he said.
"However, it cannot be compared to the tragic disaster which occurred in Gleision.
"Against the backdrop of Gleision people may be understandably more concerned but Aberpergwm is a modern and efficient mine.
"Its safety record is admirable and the mine is employing and recruiting more and more people every year."
Mr Hain said he would be "very concerned" if the Gleision tragedy cast a dark shadow over mining in his constituency, where "400 people are employed in highly skilled jobs".
Welsh Secretary Cheryl Gillan said she was concerned another mining accident had occurred in Neath Port Talbot within "such a short space of time".
"I want to satisfy myself that this government is taking every possible action it can," she added.
"My heart goes out to the families of the men who have been injured this morning and I am relieved there was no loss of life."
In a statement, colliery owners Walter Energy said: "At around 2.30 this morning an incident occurred underground, where three workers were injured.
'Safely'
"Emergency services were immediately contacted to assist and attended the site. The three workers were all brought to the surface safely.
"One worker had a minor injury and was assessed on site by the ambulance service, and has since gone home.
"One worker had minor injuries and was taken to hospital as a precautionary measure, but has since been discharged.
"The third worker has been taken to hospital where his injuries are currently being assessed. All families have been informed."