Wrex Factor win lands Kayleigh Lebanon Snow White role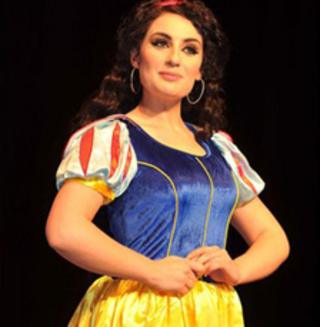 A stage-struck graduate has landed the lead role in a UK pantomime in the Lebanon after entering a north Wales talent contest called the Wrex Factor.
Kayleigh Strong, 22, from Flint, Flintshire, is to be Snow White in a 10-night run at a five-star casino.
Producers say it is first British panto to be staged in the former war-torn Middle East country.
Ms Strong, who has a degree in musical theatre, said: "It's all I've ever wanted to do."
After winning the Wrexham-based talent contest, she was offered the part of the Fairy Godmother in a UK-based production of Cinderella.
But the organisers were so impressed with her talent they soon asked if she wanted the much larger role of Snow White in the show they were preparing for the Lebanon.
Ms Strong said she hopes to take a master's degree in musical theatre next year.
She said: "I wanted to play Snow White because it's the lead role. You never know what might come of it.
"I'm a bit nervous about it, but I've heard loads of great things about the Lebanon, so I'm excited."
She said her parents Mark and Judy at first did not want to go for fears over her security.
From 1975 until the early 1990s Lebanon suffered a bloody civil war.
There was a resurgence of hostilities in 2006 and the country has struggled since to regain the relative stability it enjoyed after the civil war.
But comments from people who have visited the country have helped reassure the family that she will be safe, she said.
She is waiting for the show's scripts to arrive so she can begin rehearsals in time to fly out to the Lebanon on 20 December.
The panto opens as at Casino Du Liban, just north of Lebanese capital Beirut, on Christmas Day.
Julie Strong said: "I think I will still be worried while she's out there but she's just determined that this is what she wants to do."