New health and safety figures show farm deaths up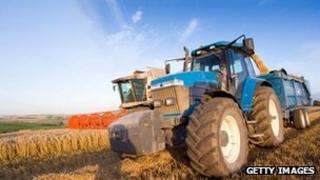 Farming is lagging behind other industries in reducing injuries and deaths, says the Health and Safety Executive (HSE).
Three farm workers in Carmarthenshire, Ceredigion and Powys died in the last year according to new accident figures.
"People in farming don't have minor injuries; when they get injured it's bad," said HSE chair Judith Hackitt.
Farming unions in Wales said they were working hard on the problem but safety issues were not a "quick-fix".
The HSE said its figures for 2010-11 showed three deaths in Wales; in 2008-09 there was one farming death, while in 2009-10 two fatalities were reported.
In total across the UK, 34 agriculture workers were killed at work in the past year, down from 39 in 2009-10.
Agriculture accounts for one in five British workplace deaths even though farmers form less than 2% of the working population. In Wales the figure is 3%.
Other potentially dangerous industries, like building or quarrying, have lowered the number of workplace deaths and injuries over the last 10 years.
But farming remains a problem.
HSE chair Ms Hackitt said getting people in agriculture to recognise just what a big problem safety was, was one of the reasons why farming had not mirrored other industries in reducing work-related injuries and deaths.
"When I said to the NFU that if I had sons I would not want them to work in agriculture, it really made them sit up and take notice," she said.
Major agricultural injuries in Wales are also a problem and in the past year 25 were reported, the same as 2009-10. They are down slightly from 28 in 2008-09.
But there is some good news.
Welsh farmers requiring more than three days or more off work due to injury fell to 18, compared to 25 in 2009-10 and 29 in 2008-09.
NFU Cymru held a farm safety summit with the Farmers' Union of Wales (FUW), Wales Young Farmers' Club, the Welsh government and the Royal Agricultural Benevolent Institution and others earlier this year.
Reacting to the latest figures, NFU Cymru president Ed Bailey said: "We are all agreed we have to raise the profile of farm safety in order to reduce this awful number of deaths announced today and the serious injuries we constantly hear about in the news.
"This is not going to be a quick-fix campaign unfortunately.
"All organisations involved in the farm safety summit are agreed we are in this for the long-term with a dogged determination to get farmers thinking of their safety - first and foremost."
FUW president Emyr Jones said health and safety was a vital issue, and the union was working hard to highlight it.
He added: "Many farmers work alone, often in isolated areas, many jobs are routine in nature and when someone is tired after a hard day's work attention to detail may slip and accidents can happen.
"The statistics for Wales make very worrying reading and highlight the need for us all to ensure that the health and safety message gets out there."