Obese Wales hospital patients rising, figures suggest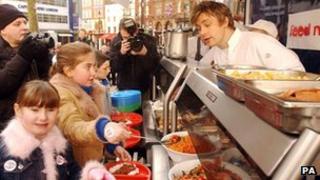 The number of obese patients treated in Welsh hospitals is rising significantly, new figures obtained by BBC Wales suggest.
The number of cases where obesity is considered a factor worth noting has gone up every year since at least 2006.
And the age of those with obesity-related conditions is plunging, with Type 2 diabetes found in people in their 20s and younger.
Wales' top doctor, Tony Jewell, said obesity was a major health problem.
Dr Jewell, the chief medical officer, referred to last year's Welsh health survey which said 57% of adults were overweight or obese.
Health experts say obesity is helping fuel a time bomb of chronic illness, and the figures obtained through a freedom of information request to health boards in Wales seem to give little hope of improvement.
In 2007, hospital staff recorded fewer than 3,000 cases where obesity was a factor, but this had increased to over 4,500 by 2010, and looks likely to rise again in 2011.
While obesity may not be directly responsible - and the number of patients treated generally is rising - it is often a major factor in illnesses and conditions such as type 2 diabetes, heart disease and joint pain.
It is also a risk factor for types of cancer, including breast cancer.
Dr Jewell said although the new figures were a small proportion of the overall numbers of people treated by the NHS in Wales, they were one of many measures which highlighted the issue.
"The message is that obesity is a big public health problem and it's not good that we have got over half the adult population that's obese or overweight," he said.
Risk factor
"You just need to sit on a street corner and watch people go by. It's a big problem.
"It's not good because it's a risk factor for these diseases that cause premature death - diabetes, heart disease, strokes, cancer.
"As far as the government is concerned, we're trying to approach it strategically."
He said the Welsh government was targeting different age groups but particularly children and young people.
"Think in the long term. It can't be tackled by the NHS on its own," he said.
"It has to be tackled through the food industry and legislation as well as people taking their own action."
He said a crumb of comfort was that obesity levels among adults in Wales appeared to be levelling off - but were still far too high.
One symptom of the obesity problem is that the age of people getting related diseases is coming down.
NHS dietician Sioned Quirke said patients in their 30s were being treated for the effects of heart disease, while knee and hip replacement operations were now carried out on patients in their 40s:
"A classic example is Type 2 diabetes which was known as late onset diabetes but it's completely not true now because people are being diagnosed younger and younger," she said.
"It used to be people in their 60s and 70s that we would get diagnosed but now it's even people in their 20s."
Weight-loss surgery
Besides the harm being done to the individual, health experts also point out that obesity is a big drain on the public purse.
A recent Welsh government-commissioned study by Swansea University calculated that obesity was costing the NHS in Wales £73m each year.
A new all-Wales service to help very obese patients was launched this summer at Morriston Hospital in Swansea.
The Welsh Institute of Metabolic and Obesity Surgery is expected to offer weight-loss surgery to over 70 patients each year.
Ceri Phillips, professor of health economics at Swansea University, who was involved in the government-commissioned study, said there had been extreme examples of money being spent to adapt ambulances to carry very obese patients.
He said all of society - including government, schools and parents - needed to work together to tackle the problem.
"We need kids to be engineered early not to eat the things they currently do. We need parents to be educated to get better diets at an early age," he said.
"Sugary sweet things need to become treats, not the main thing.
"We do not have the structures in society that we had 20 or 30 years ago when we had heavy industry and manual labour and we could eat the calories and fat foods then burn them off."
He added: "We're already accumulating chronic disease at an increasing rate. We will probably be seeing a decline in life expectancy."
Dr Mark Temple, of the British Medical Association Cymru Wales, agreed it would require a community effort, but also highlighted the efforts of high-profile chefs making good cooking "cool".
"Because of the removal of domestic science from school, a generation has grown up who do not know how to cook so they buy ready-made meals," he said.
"We know that ready meals are full of sugar and redundant energy.
"Jamie Oliver and his ministry of food movement, which got very little support from the powers that be, was a very good health campaign.
"Jamie is very popular with youngsters and the idea that cooking is cool, that actually getting fresh food and cooking it is a good activity, is actually a very worthwhile goal."
But he warned it would take more than TV chefs to turn the tide, adding: "If we work together we can crack it but if we try to think we can do it on our own, we're going to fail."
Figures are for obesity as a secondary clinical condition (in vast majority of cases) so hospital admission is not necessarily directly because the patient is obese.
Some health boards gave figures for fiscal years (eg. 2006/07) rather than calendar years.