Pembrokeshire Thorn Island with Napoleonic fort is sold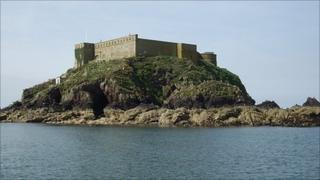 An island off the Pembrokeshire coast that boasts a 19th Century fort built to fight off the French has been sold.
Thorn Island near Milford Haven has been sold to a company which owns other historical sites including Chislehurst Caves in Kent.
The guide price was £750,000 but it is believed to have been sold for significantly less.
The new owner, Kent Mushrooms, is said to want to "explore the possibilities of future commercial use".
The island, which is in Pembrokeshire Coast National Park, was put on the market after its previous owner, the von Essen hotel chain, went into administration.
Von Essen had drawn up plans to upgrade the Grade II-listed fort into a five-star retreat with a cable car link to the mainland.
Christie and Co, acting on behalf of the administrators, said there were 12 bids for the two-acre site.
Sea defences
Director Simon Stevens said: "Thorn Island is an amazing retreat that attracted strong interest from domestic buyers with several offers also received from overseas investors.
"The eventual buyer completed the deal within eight days of agreeing terms."
The Napoleonic fort, originally built as one of three sea defences to protect Pembroke Dock from the French, was a hotel in the 1980s and 90s.
It has been unoccupied for over 10 years since it was last sold.
The area is popular with divers, who investigate the wrecks near the island.
The ship Loch Shiel, which was carrying thousands of cases of whisky, ran into rocks off the island in the late 19th Century.