Wales and China sign cancer training and research deal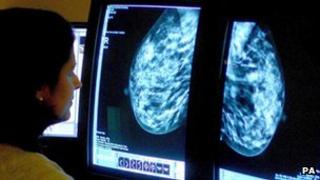 A biopsy technique for breast cancer developed by scientists at Cardiff University is to be taught at one of China's leading cancer hospitals.
The university has signed a deal with Chongqing University in western China to teach sentinal node biopsy.
The technique, pioneered at Cardiff's School of Medicine, reduces the surgery needed by patients to check whether their cancer has spread.
The Welsh and Chongqing governments have signed a formal cooperation deal.
Sentinal node biopsy was pioneered by Professor Robert Mansel, at Cardiff School of Medicine.
The technique allows breast cancer patients to have only one lymph node removed from the armpit to check if the cancer has spread.
Previously, all the lymph nodes had to be removed, often unnecessarily. The technique has now been rolled out across the UK, saving thousands of patients from surgery and discomfort every year.
The surgical treatment partnership was signed by First Minister Carwyn Jones during a Welsh government business and education trip to China.
It will see Cardiff scientists help their Chinese counterparts establish a standardised approach to sentinel node biopsy.
'Leading killer'
Chongqing, which has more than 1,000 beds, is said to be the most advanced cancer hospital in western China.
Doctors and researchers from Chongqing will also visit Cardiff for breast cancer training and research and the two universities' schools of medicine say they hope this will to extend to other tumours, such as lung and prostate cancer.
First Minister Carwyn Jones, who attended the signing, said: "Cancer has become a leading killer in both Wales and Chongqing so I am delighted to see Cardiff University and Chongqing cancer hospital joining forces to advance research and training to combat this disease.
"I hope this important link will further strengthen the relationship between Wales and Chongqing and that the outcomes of the collaboration will benefit people in our two nations and beyond."
Professor Ling Zhang, deputy director of Chongqing Health Bureau, said: "This marks the beginning of a new chapter in our relationship and collaboration between the two institutes.
"I hope there will be fruitful research projects and exchange of scholars over the years to come."