Garden of remembrance at heritage park to fallen troops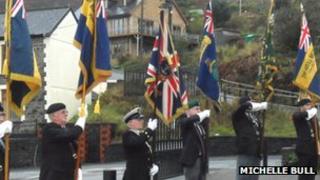 A garden of remembrance has been opened in the south Wales valleys for those who have died in armed conflict since World War I.
People will be able to leave their own personal tributes at the garden at Rhondda Heritage Park, near Pontypridd.
The tourist attraction is also hosting a war painting exhibition and a huge sculpture of a soldier.
The Abandoned Soldier statue is raising awareness of the difficulties faced by soldiers returning from combat zones.
Modelled on the face of an injured soldier, it has already been on display at Cardiff Castle, Staffordshire and Exeter Castle this year.
Lt Col Gareth Pennell, president of The Royal British Legion in Pontypridd, said it was important to remember all of those that had died in every conflict.
"I think there's one year, 1968, in which the British army has not lost anybody in conflict, so it's continuous," he said.
Suffering in Afghanistan
"When you look at the number of nearly 400 [British soldiers who have died] in Afghanistan, it's very important to remember it.
"I'm afraid the generation now who are suffering in Afghanistan, when they come back they have got another 50 years of life or more in front of them so they will continue the remembrance, and the generations that follow."
A service featuring pupils from Hafod Primary School in Trehafod was held at the heritage park on Monday to mark the opening of the garden of remembrance.
There is also an exhibition of semi-abstract paintings by the artist Patricia Mears, who is based at Llantwit Major in the Vale of Glamorgan.
Both her sons have served in the army for several years and both are in Afghanistan this year.
Laura Harrison, 31, viewed the exhibition with her husband Matthew, who served in Iraq in the Territorial Army in 2003.
She said: "I think we need to continue remembering because obviously war isn't something that was in the past, it's still happening now.
"I think we need to carry on remembering for the people who died this year as well as 90 years ago."
Proceeds from the exhibition will be donated to the Help for Heroes charity and the Royal British Legion.