Indie film Weekend break for Cardiff actor Tom Cullen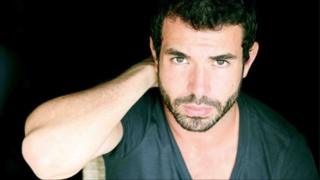 For somebody who had always known he wanted to act, Tom Cullen managed to spend quite a long time avoiding the inevitable.
The Cardiff actor spent his first few post-school years "mainly dossing and boozing" around the city, having a lot of fun.
But one morning he woke up, looked in the mirror, and knew the time had come to take life in hand.
He says: "I was not happy, and was thinking, you need to do the thing you want to do."
Cullen, 26, applied for drama school the next day and walked into the future for which he appears to have been destined.
His turn as Russell in Weekend, a small, independent film made on a shoestring over 17 days in Nottingham, could push him firmly into the public eye both in the UK and the United States, where a groundswell of support has built behind the film.
The story centres around a meeting between Russell, described as a bit of a lost soul, and Glen (Chris New), at a bar one Friday night.
The weekend that follows sees a love story unfold in miniature. Short on time, the two men spend the days and nights trying to make sense of who they are and where they fit into the world around them, according to the film's director Andrew Haigh.
The film won the audience award at the prestigious SXSW film and music festival in Austin, Texas and the Grand Jury prize at Nashville Film Festival, where Cullen picked up the Best Actor award.
On the film's UK premiere at the London Film Festival last month, Cullen was a contender for the Best Newcomer award, and has just been nominated in the same category for the British Independent Film Awards, alongside fellow Welsh actor Craig Roberts for Submarine).
The former Llanishen High School student says the reason he was so reluctant to pursue acting initially was to do with belief in himself. He comes from a theatrical family, with both parents writing for the stage, and the desire to act was innate.
He says there was not ever a conscious realisation that it was his calling but more "something which always existed inside me".
"I tried not to be an actor when I left school. I always knew I wanted to do it, but I don't have a large amount of faith in myself. I had lots of fun in my early 20s but I found myself not fulfilled."
He had had a taste of the stage with the National Youth Theatre of Wales twice, taking a lead role in the 2004 production Whispers in the Woods.
"It was my first significant role in that it was in front of 500 people. It was like a step for me in deciding that I wanted to be an actor eventually."
A year at Central School of Drama led to the decision that the place "wasn't my cup of tea" and got in touch with the Royal Welsh College of Music and Drama where he had applied the previous year.
A place came available and the budding actor spent three years there, making a film at the end of his first year, Daddy's Girl.
'A good story and a good journey'
After graduating in 2009, Cullen says he has been lucky enough to be working non-stop, but knew Weekend was something special when he was offered the script.
"I had four offers at the time, some better paid, some I guess more high-profile than this but there was no other film I was going to do.
"From an egotistical point of view it was a massive challenge, because Russell is so far removed from who I am, and that's always exciting because it stretches you as an actor.
"He's so open, he's gay - I saw the outline of Russell and I wanted to get inside and fill it out."
He could see parallels between himself growing up in Cardiff and Russell in Nottingham, in a post-industrial town which "loses it sense of identity when the industry goes".
"I think if you've got whole swathes of young men trying to find out where they fit into these areas, which may be regenerated, they're not knowing where they fit into the world," he explains.
"Where they would have worked, in a steel mill or down the docks, they're now in call centres. What I loved about the film was he's working in this job, but he finds his place through this relationship he has.
"Capitalism doesn't allow us to stop for a moment and have a conversation with another human being. I saw myself and my mates in people like Russell."
Politics is a word which recurs in Cullen's conversation and he says he has a left-wing outlook which informs his work.
"What interests me is anything which is going to challenge me. Anything which will rally my values as an actor and a human being. Politics is very important to me so I suppose anything I do will always be driven by that.
"Not exclusively; the human condition is not always political, but what's most important to me is a good story and a good journey.
"I'd like to balance fun with stuff I feel is important to me."
He has spent the past six months filming World Without End in Budapest, a big-budget, Canadian-British-German television co-production starring Miranda Richardson, Sex and the City's Cynthia Nixon and Peter Firth.
The series is a follow-on from The Pillars of the Earth and a complete change of scale from Weekend. "It's a huge, $50m project whereas Weekend was about £4.60," Cullen laughs.
He will be returning to Budapest to continue filming after a short visit back home to see family, before taking on another film at the end of December and going to LA in January.
TV viewers can see him in December in a three-part dark comedy devised by Charlie Brooker and written by Peep Show's Jesse Armstrong, The Black Mirror Trilogy.
Weekend is released in selected UK cinemas on Friday 4 November.