'Thomas the tank' railway Talyllyn's engineers' award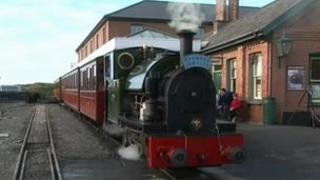 The railway which inspired the author of the Thomas the Tank Engine books has been honoured.
Talyllyn, which was built in 1866 to carry slate and passengers in mid Wales, became the world's first volunteer-run heritage railway in 1951.
The cartoon engine's creator, the Reverend W Awdry, joined the volunteers in 1952.
The railway is the 67th Engineering Heritage Award winner. Others include the world's first railway locomotive.
The 7.25 mile (11km) railway in Tywyn, Gwynedd, nearly closed when the line's owner died in 1950 and was saved by a newspaper advert by rail enthusiast Tom Rolt, in the Birmingham Post.
The Talyllyn Railway Preservation Society (TRPS) was formed as a result of a flood of responses to that advert, and in May 1951 it became managed and run entirely by volunteers.
"Sixty years ago volunteers decided to save this particular railway and since then all our heritage railways have started from there," said Prof Isabel Pollock, of the Institution of Mechanical Engineering.
"Think how many we have [now], how many engines have been saved from being chopped up, to create the leisure business that we have in heritage railways."
One of the volunteers at Talyllyn was the Rev Awdry, who was born 100 years ago, began writing Thomas the Tank Engine stories in 1945, and which remain popular today.
He joined as a volunteer guard in 1952, and he used his experiences on the railway in his books.
"I think it's really fantastic," said Julian Stow, one of Talyllyn's current volunteers.
"It's a nice bit of recognition for the railway and puts us in illustrious company alongside the Harrier jump jet and SS Great Britain, so it's really good news."
The Engineering Heritage Awards recognise artefacts, locations, collections and landmarks of significant mechanical engineering importance.
It was presented to the railway on Sunday by the Institution of Mechanical Engineers.