Football writer scores hat-trick at Wales Blog Awards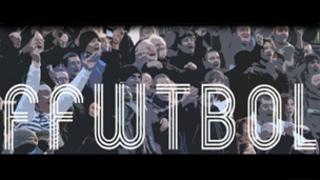 A Gwynedd-based football writer has won a hat-trick of prizes at the second Wales Blog Awards.
Phil Stead, 44, took the overall award after winning the best sport category and being named the people's choice.
Cardiff-born Mr Stead, a former BBC Wales journalist, has written his blog Ffwtbol since 2008.
The Cardiff City fan said: "My passion is everything around the game - it's not the game itself but what football generates, what it does for people."
Welsh-speaker Mr Stead, of Y Felinheli, whose blog is described as "football from a Welsh perspective" is a veteran of writing for digital media, having begun in 1996.
He said: "I never keep to a schedule. The great thing about blogging is the freedom. I just write about what I think isn't being said in the mainstream media."
He said he had once tried to make money from his blog by writing a series of controversial articles but had since decided against it.
"They got massive numbers but I wasn't happy with the posts. The moral there is you have to write what you feel - you are either popular or you are not.
"I don't think I'm particularly popular but it's nice when people with expertise and knowledge of the issues have acknowledged you."
Ambitions
Mr Stead said his career has included stints working as an information manager and as a stadium announcer for Cardiff City. He is currently digital director for Gwynedd-based independent production company Cwmni Da.
Despite his expertise with digital media, Mr Stead says he still harbours ambitions to be published in book form.
More than 200 blogs on subjects, including food and drink, sport and their local community, competed in the awards, with a winners' ceremony at Chapter Arts Centre, Cardiff.