Poppy appeal in Wales aims to help break records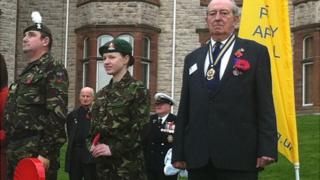 The Royal British Legion's poppy appeal in Wales has been launched with the hope that it can help beat previous national fundraising records.
The organisation, which supports the armed forces and their families, hopes to raise £40m - more than last year's record total of £36m.
In Wales, the appeal was launched by Cpl Glen Edwards, who was blinded in an accident, at St Dunstan's Llandudno rehabilitation centre.
Welsh fundraisers hope to collect £3m.
They will be raising money in the run-up to Remembrance Sunday in November during a year in which the legion celebrates its 90th anniversary.
Kevin Forbes, the legion's community fundraiser for north Wales, said all money raised would provide "vital care for injured service people".
He added that people were still generous despite the recession and other charities fundraising for the armed forces, such as Help for Heroes.
Blinded
"The generosity of the public is amazing," he said.
"The poppy appeal is the symbol of the benevolence fund for the Royal British Legion and people of all ages will quite happily come and they will donate very generously.
"Last year we broke all totals at £36m and we're hoping this year we can get somewhere to £40m just from the poppy appeal."
Cpl Edwards, of the (Welsh) Field Ambulance, based in Llandudno, was blinded, left partially deaf and lost most of his left forearm whilst training for a further deployment overseas.
He launched the poppy appeal at the recently opened St Dunstan's, which provides training and rehabilitation to blind ex-service men and women.
Cpl Edwards, who previously served in Northern Ireland, Iraq and Afghanistan, was at the centre's new state of the art Poppy Wing, which the legion donated £2.6m towards.