Councils in Wales look to charity to cut service costs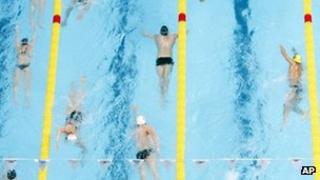 Some councils in Wales are examining setting up charitable bodies to cut costs to run leisure centres and swimming pools.
Councillors in Torfaen will hear next week how transferring the services could save up to £1.4m over five years.
Swansea and Bridgend are also reviewing their leisure services.
The Welsh Local Government Association said all options were being investigated, including setting up charitable bodies.
Local government consultant Jeff Jones, former Bridgend leader, said more and more councils are going down this road.
Torfaen estimates it could save council taxpayers £240,000 a year over five years if it sets up a "Non-Profit Distributing Organisation" (NPDO) to take over the running of its leisure services.
A report before the council's cabinet said the benefits of moving leisure services to a charitable body would include cutting "back office" costs while moving many day-to-day maintenance costs to the new organisation.
Physical activity
A not-for-profit body would also enjoy tax breaks that are not offered to local authorities, and be able to seek grants and private sector funding.
Pontypool Active Living Centre, Pontypool Ski Centre, Fairwater Leisure Centre, Cwmbran Stadium and Bowden Active Living Centre in Torfaen could be affected.
Meanwhile, Bridgend council's Healthy Living Services Partnership Project has been examining how best to fund its strategy to improve levels of physical activity while coping with pressure on budgets.
Swansea council is holding a review of the management of its indoor leisure centres.
However, Swansea's most high-profile leisure centre, the LC, has been run as a not-for-profit company on behalf of the local authority since it re-opened in 2008 after a £32m refit.
In neighbouring Neath Port Talbot, six sport and leisure centres and swimming pools have been run by Celtic Community Leisure since 2003 in a deal worth £1.8m per year.
Mr Jones said local authorities were not obliged to supply their communities with leisure services in the same way as education and social services.
Struggling
As a result, more of them will look at ways to create partnerships that free them from the day-to-day running of loss-making venues, he said.
"No leisure service makes a profit," he said.
"A lot of those leisure facilities were built in the 1970s and 1980s and are now coming to the end of their lives.
"A popular leisure centre can lose £500,000 per year, a swimming pool can lose £100,000 per year.
"The question for local authorities is how can you justify losing money on leisure when you are cutting schools and other services?
"For the last 15 years, every local authority has been struggling with what to do with leisure facilities.
"A not-for-profit can change the terms and conditions of workers, it might not have to pay business rates, it can think a bit smarter."
The Welsh Local Government Association said: "Councils are exploring a variety of different ways to deliver the services people in their communities rely on.
"All options are being investigated and setting up charitable bodies is a route all councils in Wales may consider."