Wales make korfball world championship debut in China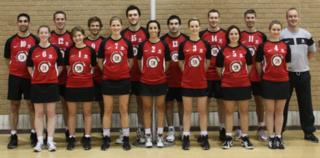 The Wales football team might not have been able to manage to qualify for a major tournament since 1958.
But less than 10 years since being formed, the national korfball side have made it to a world championship.
Their campaign kicks off on Thursday against hosts and third favourites China.
Korfball is similar to netball, but it is the only mixed-sex team sport recognised by the International Olympic Committee.
It was invented in the Netherlands in 1902, and teams comprise four men and four women.
However, it was not plain sailing in its early days. It sparked moral indignation because of the outfits which saw women bare their knees in a sporting arena for the first time, and "fraternisation" between men and women in sportswear.
The sport has spread beyond its Benelux roots, and is now played in 54 countries worldwide.
Although Welsh players have previously appeared at the world championships as part of the now-defunct Great Britain team, Wales have now qualified as a nation in their own right for the first time since the home nations went their separate ways in 2003.
For the side's most experienced player, John Williams, it represents an opportunity to show how far Wales have come.
"I'm 36 now, though I'd prefer to say I'm the most experienced, rather than the oldest player, and I can't wait to represent Wales at a world championships.
"We don't have any official funding, and very little coverage, so we're all really hoping that a strong performance could put us on the map.
"Whatever happens it's amazing Wales has come so far so quickly. We're ranked 19th in the world, and only 16 qualify for the championship, so on rankings at least, we shouldn't even be here.
"But Cardiff in particular is so strong in korfball, and the fact that we've managed to get a Wales team here justifies Wales going it alone as a nation."
Wales qualified for the world championships by finishing in the top ten of last year's European championships and although they are not fancied to progress beyond their group of the Czech Republic, Catalonia and China, player-manager Ramzi Barbir says just getting to China is enough of an achievement in itself.
"It's a great achievement for such a small korfball nation such as Wales to compete at the highest level in the sport.
"The team has trained hard over the past four months in preparation for the tournament, and we are all excited about our prospects on the world stage.
"Korfball is currently an unfunded sport so all players have been fundraising to cover their flights and accommodation.
"So far the squad has raised over £5,000 through sponsorship over some extreme athletic challenges."
Those fund-raising challenges have ranged from running each Olympic event - from 100m to the marathon - on consecutive days, to a day of each performing 6,000 press-ups, or one for every mile between Wales and China.
Their opening match takes place at 13:20 BST on Thursday, and will be covered on the team's website, www.walestochina.com