Aamir Siddiqi case: Two bids failed to save stabbed boy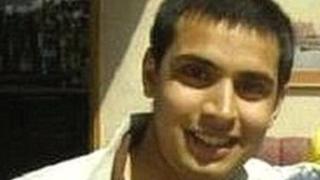 A passer-by and two policemen tried in vain to save a teenager fatally stabbed at his Cardiff home, a jury has heard.
Aamir Siddiqi, 17, was attacked by contract killers on the doorstep of his family's home in Roath on April 11 last year, Cardiff Crown Court has heard.
Ian Nurse said he was on a Sunday walk when he heard screams and entered the house. Sgt Kee Wong said he and a colleague also tried to revive Aamir.
Ben Hope, 38, and Jason Richards, 37, both deny murder. The trial continues.
Mr Nurse told the jury he was approached by two young girls then became aware of screaming. After dialling 999, he said he stayed on the phone before approaching the front door.
"At first the screams were intermittent, but became clearer," he said.
"The front door was ajar and I came to the decision that something was not right.
"I walked up the path and then saw an Asian lady in the corridor, who screamed towards me in a hysterical way."
Mr Nurse said Aamir's father approached him in the corridor, revealing a blazer with a bloody stain.
"His manner was very quiet," said Mr Nurse.
As Mr Nurse looked across the corridor he could see legs emerging from the front room, the court heard.
"I noticed a teenage lad lying down, who had received a lot of trauma," said Mr Nurse. "There was no movement from him.
"I checked his right wrist for a pulse, but could not feel anything. He had a very fixed stare and his pupils were dilated."
Mr Nurse said he attempted resuscitation before the arrival of police and paramedics.
Chest compressions
The court heard Sgt Wong was told by one of his colleagues on arrival: "It doesn't look good, Sarge".
He told the jury there was a lot of blood coming from Aamir's back, where there appeared to be three wounds.
Sgt Wong said he gave mouth-to-mouth resuscitation using a face mask, while another of his colleagues did chest compressions.
He said there was a lot of anxiety around this period as there "had been a delay in getting an ambulance to the scene".
Sgt Wong told the court he sought to preserve the scene so that no forensic evidence was lost.
However, defending barrister John Charles Rees QC questioned whether police had followed strict procedures on scene preservation.
Mr Rees outlined an initial police report written by Sgt Wong, which he said did not precisely state what methods were used by officers to protect forensic evidence.
The jury also heard evidence from Gareth Williams, who lived in a nearby street.
He said he had seen a light coloured 4x4 vehicle drive at high speed near to Aamir's home, around the time he was stabbed.
"It must have been doing about 50mph," he added. "It was really gunning it - going through the gears very quickly."
But in cross-examination Mr Williams said he could not be certain about the precise time he had seen the vehicle, who it was being driven by or whether it had been white or silver in colour.
'Wrong house'
Previously, Patrick Harrington QC told the court that Hope and Richards had each been paid £1,000 "blood money" to carry out a hit on a man named Mohammed Tanhai, who lived in a similar red-brick home to the Siddiqi family.
An alleged criminal named Mohammed Ali Age, 32, has been accused of ordering Mr Tanhai's killing for the non-return of a £50,000 deposit on a house.
Hope and Richards were said to have been so drugged up at the time they targeted the wrong house by mistake.
Aamir answered the door that day as he had been expecting his Koran teacher to arrive for a home lesson, but saw two masked men at the door instead.
The court heard his alleged killers lashed out at the teen with silver daggers as they howled like animals.
His father Iqbal, 68, and mother Parveen, 55, rushed to their son's aid before being knifed themselves.