Full-time paramedics to cut Wales Air Ambulance costs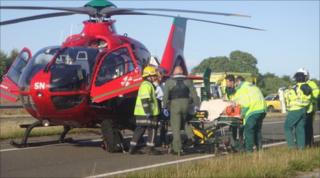 Full-time paramedics are to crew Wales Air Ambulance (WAA) helicopters for the first time, which the charity says will help cut costs.
WAA has taken on 10 paramedics, seconded from the Welsh Ambulance Service, taking the total number to 15.
Previously, a team of 30 paramedics worked part-time for WAA, which cost the service more in training fees and equipment.
The charity has three helicopters based in north, mid and south Wales.
Five paramedics will be based at each of WAA's three sites in Welshpool, Swansea and Caernarfon.
The Welsh Ambulance Service will pay their wages, but WAA is paying for training and for their flying suits and other kit.
'Extremely skilled'
WAA said having a smaller group of paramedics to train and equip would reduce costs.
Chief executive Angela Hughes said: "This is a big move for us and brings the charity in line with other air ambulance operations, where this strategy has proven to be very successful.
"Having a smaller number of full-time crew means the paramedics are dedicated to the work of Wales Air Ambulance.
"The crew will be saving lives in the air and also on the ground, by helping to raise awareness and funds."
Jason Williams, the charity's clinical and operations manager, added: "This is a very intensive job and the recruitment and training process has been at times gruelling for the crew.
"However, we're very excited to have a team of extremely skilled and talented paramedics flying with us."
The 10 paramedics have been trained in everything from navigation and avionics to treating patients in-flight in turbulent weather.
Poor road links in rural mid Wales can delay patients receiving care within the so-called "golden hour," which increases their chance of recovery.
Between the charity's three helicopters, the paramedics can reach any part of Wales within 20 minutes.
The service has completed more than 14,500 missions since its launch in March 2001.