Merthyr cabbies join valleys tourism ambassador drive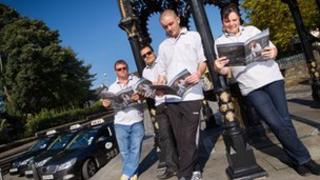 Taxi drivers in the south Wales valleys are becoming tour guides to share their unique knowledge of the area's sights and history with visitors.
Nine cabbies from Merthyr Tydfil are among 120 volunteers who have trained to become Community Tourism Ambassadors in the area.
Others include former miners, teachers, park wardens and hotel workers.
It means they will be able to highlight places of interest and share quirky tales with tourists.
Giving confidence
The volunteers were encouraged during their training to look at their area through the eyes of tourists, anticipating the sights they might want to see on their visit.
The course they attended also aimed to give them confidence to talk to visitors and extend a warm welcome.
Andrew Barry, who owns Funky Kabs, which has contracts with some of the area's largest companies and the NHS, said he was keen for his drivers to take part.
He said they had always shared anecdotes about Merthyr with their passengers and he was happy to make the role more official.
"A large part of our work is picking international business people up from airports and bringing them to the valleys. There are a lot coming to the area and we always drive them through spectacular countryside," he said.
"And they are always amazed by how beautiful it is. What people often don't appreciate is that while we lost a lot in terms of economy when the coal mines shut, we gained a lot in terms of ecology.
Deeper knowledge
"Now we have salmon in the rivers, birds of prey flying around here practically in flocks. We have green mountains and no longer dusty coal heaps. So we are happy to tell people all about that.
"A lot of people who come here for business later come back to spend the weekend here as they are blown away by the scenery."
He said the fact that some of his drivers used to work in the coal mines and steel works before they shut gave them deeper knowledge of the area's history to share with passengers.
"Of course, we have got one of the greatest heritage stories of any town. People are coming from parts of the world with little or no heritage. For example, they ask us why our [terraced] houses are arranged this way and are interested in the mining history," he said.
"My drivers all live in Merthyr. We have been and still are the heritage."
The campaign to train up to 200 tourism ambassadors from across the south Wales valleys by 2012 is being run by Valleys Regional Park Programme, using grant aid from the European Social Fund through the Welsh Government.
The volunteers will offer a welcoming presence to visitors, sharing their local knowledge and experiences as well as highlighting special places of interest and facts about the area.
Rhys Hughes, community tourism development officer for the Valleys Regional Park project, said: "Our ambassadors are fully trained in meeting and greeting visitors to give them that unique valleys welcome and we help them expand their knowledge of their area to help visitors get the most out of their stay.
"What's more, the training has also helped our ambassadors grow in confidence and given them a real enthusiasm for encouraging more people experience what makes the valleys so unique."