1,000 drivers in Wales caught on mobiles in two weeks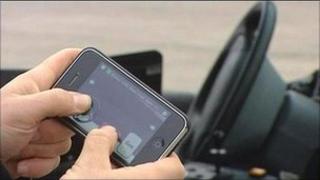 A crackdown on motorists in Wales using hand-held mobile phones saw 1,000 drivers caught in two weeks.
The four police forces in Wales took part in the operation over the fortnight in September and October.
Dyfed-Powys Police issued 429 fixed penalty notices, with 274 in south Wales, 129 in Gwent, and there were 168 in north Wales.
Of the 1,000 drivers caught, 505 were men aged over 26. The second biggest group of 181 were males under 25.
Across Wales, 89 females aged 25 and under were caught, with 143 aged 26 and over.
There were also 82 offences where the age and gender is described as unknown.
North Wales Police have been asked how many of the 168 incidents resulted in fixed penalty notices.
The operation too place in the last week of September and first week of October.
Ian Arundale, chief constable of Dyfed-Powys Police, whose force led the campaign, said: "These results highlight our commitment to addressing this serious issue.
"Research indicates that you are four times more likely to crash while driving and using a mobile phone.
"Obviously there is an element among the motoring public that continue to put themselves and others at risk by driving while using a handheld device."
Internet hit
Susan Storch, chair of Road Safety Wales, added: "While it's saddening to see that so many motorists got caught using a mobile phone while driving it has also demonstrated the resolve of all the Road Safety Wales partners in tackling this issue and we will continue to work together to drive home the message that you need to switch off before you drive off."
The campaign followed a road safety video that became an internet hit, created by Newport students.
The short film, Cow, starring young actors from Newport Film School, shows a teenager killing four people in a collision when she uses her mobile phone to send a text.
It was seen by more than 7m people after it was posted on YouTube in 2009.
Since 2007, motorists caught using a phone while driving are given three penalty points and a £60 fine.