Fifth flood alert imposed as heavy rain causes problems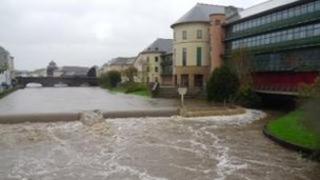 Flood alerts are in place in south west Wales after a day of heavy rain caused localised problems.
And another alert has been imposed along the north Wales coast from the Dee estuary in Flintshire to the east coast of Anglesey, Gwynedd.
An amber alert was issued for Pembrokeshire with up to 100mm (about 4in) of rain predicted on Monday.
Over a few hours 32mm (1.25in) of rain fell at Llanfyrnach, and 29mm (1.14in) at Pembrey Sands.
The flood alerts cover the western Cleddau area as well as the rivers Taf and Cynin and rivers on the north and west coast of Pembrokeshire as well as along the north Wales coast.
And a flood warning has also been put on the Cleddau's western section at Haverfordwest as the Environment Agency Wales says river levels are expected to rise until midnight.
Carmarthenshire and Swansea have a medium risk of river and surface water flooding.
Pembrokeshire council held two meetings throughout the day with the fire service and other partners to discuss contingencies as water levels continued to rise. Conditions were expected to improve from 21:00 BST.
Incidents of flooding around Pembrokeshire were reported throughout the day on Monday with Treffgarne and Wolfscastle among the worst affected areas.
Mid and West Wales Fire and Rescue Service said crews attended 30 flooding incidents within three hours since 17:15 BST on Monday, mainly in Pembroke Dock and Milford Haven.
Most call-outs were to flooded houses although two were to commercial properties including a fast food restaurant in Haverfordwest.
Pembrokeshire council said blocked gulleys were a factor in many cases.
These included High Street and Railway Terrace in Neyland, Llanfarnach, Llanteg, Tavernspite and the Withybush Industrial Estate, Haverfordwest.
Sandbags were requested by property owners in Fishguard, Kilgetty, Newport, and the Riverside Arcade in Haverfordwest as water levels rose.
In Pembroke Dock, cars were said to be skidding on the flooded main road leading up to the Cleddau Bridge because they were going too fast.
Crymych, Llanfarnach, Lampeter Velfrey, Dreen Hill Bridge, and Priory Road in Milford Haven were also affected, along with a farm at Glandwr, south of Crymych.
'Dangerous'
BBC Wales weatherman Derek Brockway blogged: "As much as 50-100mm of rain, (2-4in), is likely... with a risk of flooding and treacherous driving conditions. To give you an idea of how much rain is likely, the October average rainfall for Tenby is 131.3 mm.
"The rain will spread north this evening and clear so it will be turning much drier overnight with the wind easing."
Environment Agency Wales said some streams and rivers could burst their banks in localised downpours, adding that drainage systems may not be able to cope.
Spokesman Curig Jones told BBC Radio Wales: "We do ask that people take care when they're out and about - if they do see any flooding on the roads, not to walk or drive on them as they could be dangerous."
Throughout the day officers have been checking defences, monitoring water systems and removing any blockages that may increase the risk of flooding.
Mr Jones added: "Anything that causes a blockage in our drainage systems increases the risk of flooding quite dramatically, so that's what we're monitoring for today," he said.
As agency officers continue to monitor river levels, flood alerts or flood warnings may be issued.
People seeking the latest information and flood warnings in force should go to the Environment Agency's website or call Floodline on 0845 9 88 11 88.