Ebbw Vale steelworks office reopens after £12m refit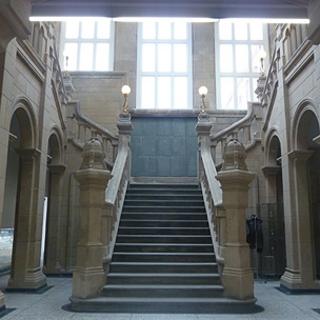 A building that was the administrative centre of Ebbw Vale steelworks for 90 years is being re-opened, following a £12m restoration.
The General Office is Grade II-listed, meaning the building is of historical importance.
It is the new home to the Gwent Archives, which have been moved from Cwmbran.
The renovated building will also contain an interactive visitor centre and a "4D" immersive cinema.
It is part of a £350m redevelopment of the steelworks site, which closed down in 2002.
The General Office building has retained all of its original features, including a grand central staircase, mosaic floor tiles, fireplaces and ceilings.
Visitor centre manager Angharad Collins says it allows people to learn more about the history of the steelworks.
"The Ebbw Vale Steelworks Archive Trust are based here. They're a voluntary organisation, who have a rich archive relating to the steel industry in Ebbw Vale," said Ms Collins.
"There are lots of artefacts, lots of original books and furniture. Even the smell in here gives you a sense of history. It's a fantastic resource for the local area", she added.
Perfectly preserved
A new wing has been built to house the Gwent Archives.
A total of 10km (6.2 miles) of shelving was needed for thousands of documents, which date from the present day back to the 12th century.
The building was designed to keep the collections perfectly preserved.
"We try to keep the collection at a very stable temperature and humidity level", explained County Archivist, Gary Tuson.
"We've got a special zone all around this room, which has a big cavity with a heating pipe in it and two roofs.
"When it gets hot outside it takes a long time to get hot in here and, conversely, when it's cold outside it's got a cushion of warm air around the room," said Mr Tuson.
There is space on the shelves for new material.
"I'm interested in collecting new documents. I know people have things in their loft or garden shed and we're interested in them bringing them to us to see if anything is worthy of permanent preservation," Mr Tuson added.
'Build for the future'
The General Office building is next to a large construction site, where a post-16 education college, called The Blaenau Gwent Learning Zone is being built.
A leisure centre, school and low energy homes are also planned for the site, now known as The Works.
The Ysbyty Aneurin Bevan hospital opened last year.
Helen Reardon, community engagement officer for The Works, said local people have broadly welcomed the regeneration scheme.
"We can't put back everything that was here in the past, but with the mix of buildings and employment opportunities, we're trying to build for the future," said Ms Reardon.