Aberconwy Tory MP Guto Bebb backs referendum on Europe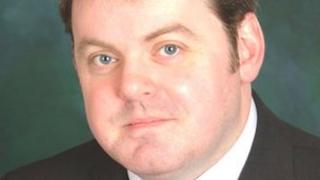 A Welsh Conservative MP has supported calls for a UK government white paper on a renegotiation of Britain's membership of the EU.
Aberconwy MP Guto Bebb has signed the amendment to a Commons motion which would trigger a referendum on membership of the EU.
Mr Bebb says a lot of people have "never had a say" on Europe.
Tory MPs face a three-line whip on Monday's vote on the motion as a referendum isn't party policy.
Mr Bebb told the Sunday Supplement programme on BBC Radio Wales he was seven years old when the last referendum on the UK and Europe was held in 1975.
"A lot of the people who contact me about the issue do complain about the fact that they have never had their say on our relationship with Europe," said Mr Bebb.
"There is no doubt that the people of this country voted overwhelmingly to join a European common market. But what we do now have is a European Union which behaves much more like a state."
'Real problems'
Mr Bebb explained why he has concerns over the existing motion that will be put before MPs on Monday.
"There are real problems, in my view, with the motion which has been put down.
"It's asking for a three option referendum. Anybody who's looked at referendums will be aware of the fact that, first of all, the status quo always has an advantage in a referendum," said Mr Bebb.
"With a three option referendum, where you have one option which is to stay in Europe, stay with the status quo and two options for change; one to leave and one to renegotiate, quite clearly the advantage is with the status quo," he continued.
"Secondly, I don't understand why we are asking the people of Britain, in this motion, to consider renegotiation without telling them what that renegotiation would entail.
"It is clear that there is a change in the relationship between Britain and the European Union going on and what our amendment says, in effect ,is that that change should be considered by governments, should be put into a white paper and ultimately the people of this country should have a voice on the issue".
Three-line whip
Mr Bebb told Sunday Supplement that a referendum would be in line with Conservative Party policy but not the coalition agreement.
Conservative MPs will be under orders to vote against a referendum during Monday's vote.
Around 70 Tory MPs have indicated that they support the motion but they are now facing a three-line whip.
The existing motion calls for a referendum by May 2013 and says the public should have three options put to them in the nationwide vote - keeping the status quo, leaving the EU or reforming the terms of the UK's membership of the EU.