Lynette White case: Jeffrey Gafoor insists on his guilt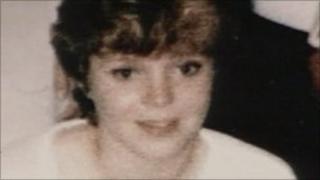 The man who killed Lynette White has insisted he was the only person responsible for her murder, a jury has heard.
Notes by Jeffrey Gafoor's legal team before he pleaded guilty in 2003 have been discovered, suggesting he deny the charge.
Three men were wrongly convicted of the 1988 Cardiff murder before being freed.
Eight ex-police officers deny perverting the course of justice at Swansea Crown Court.
William Coker QC, the barrister leading the defence of the ex-policemen, asked Gafoor about what he had told his solicitor and barrister before making his plea.
Gafoor, 46, said he did not dispute what his legal team wrote about what he told them then, but he could remember only parts of the conversations now.
He told the court on Friday he was surprised at the number of injuries Miss White, a prostitute, had suffered but he could not recall saying he thought others must have been involved in the attack.
Gafoor said he could remember asking himself why he had "carried on killing her when I could have just left".
He told jurors: "I think I was very angry. I would be guessing if I said why."
Gafoor said that while he would never forget murdering Miss White his memory of what happened was patchy. He was also wary of developing false memories.
He said he still could not remember how or where he met Miss White, or what he did with the murder weapon, or where he went for a drink, or how he got home. He could not even be sure whether he had ever had sex with her.
Mr Coker put it to Gafoor that he had invented his account of the death of Miss White after he had been warned that if the sentencing judge did not hear some sort of explanation then a parole board may never let him out of prison.
But Gafoor said he pleaded guilty, despite being advised by his legal team not to, because "I was guilty and it was the right thing to do."
Asked how he felt about five innocent men being arrested, Gafoor said: "I am not responsible for anyone else being implicated. The law may say otherwise but I don't think I am."
Miss White, 20, was stabbed more than 50 times inside her flat in James Street, Butetown, in the early hours of February 14, 1988.
Three of the Cardiff Five - Stephen Miller, Yusef Abdullahi and Mr Paris - were later wrongly convicted of the murder and spent four years in custody. Cousins Ronnie and John Actie were acquitted.
The Court of Appeal quashed the convictions in 1992.
In 2003, DNA led police to Gafoor, who admitted murder and was jailed for life. He said he had acted alone.
The trial continues.