Traders count cost of St David's centre success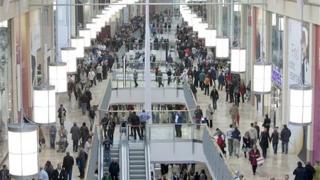 Towns and cities across south Wales are losing out on trade because of the success of the new St David's shopping centre in Cardiff, it has been claimed.
Over 75m shoppers have visited the centre since it was given a £675m revamp and expansion two years ago.
But while the development has attracted more people to Cardiff, places like Newport and Swansea have suffered, the South Wales Chamber of Commerce said.
Newport - between Cardiff and Bristol - said it is fighting back.
Huge names
St David's centre has attracted huge retail names since opening its new extension in October 2009, including John Lewis, Apple, Nike, Jojo Maman Bebe, Cath Kidston and Jamie Oliver's Italian restaurant.
Its bosses say it has exceeded expectations by drawing in 38.3m visitors over the past 12 months - an 8% rise on its debut year.
Around £1m a day was spent in the centre, which has more than 120 stores, during peak shopping times.
It has also increased the number of people visiting the city, particularly from other parts of Wales, England and even from abroad.
But, as it celebrates its second anniversary, it appears its success has come at a cost for other shopping centres in the region.
Graham Morgan, director of South Wales Chamber of Commerce, said St David's was keeping shoppers in Wales, rather than heading to large out-of-town centres in England, like Cribbs Causeway near Bristol.
"There are also folk who travel to Cardiff from outside Wales because of the attraction of all the shops under one roof," he said.
Sandwiched
"And the number of overseas visitors from places like Switzerland and Amsterdam has risen because of the state of the currency.
"But I would then counter that success by saying it will be having an impact on neighbouring cities. It means people are going to Cardiff rather than going to Newport.
"To an extent that may also impact on Swansea. You see coaches of people coming to Cardiff to shop from west Wales, whereas before they might have gone to Swansea.
"But probably the city centre that's most affected is Newport as it's sandwiched between two major shopping cities in Cardiff and Bristol. It has already lost big stores like Marks and Spencer and Next.
"[Shops there] have a right to complain."
But Mr Morgan said it was up to the other cities to try to offer "something different" in its shopping experiences to attract shoppers back.
It is something which Newport council said the city was doing, along with building a new shopping centre.
"Newport has its own unique offering and differs from its neighbours Cardiff and Bristol which are dominated by vast shopping centres," a spokeswoman said.
"Newport has a strong indoor market and niche and independent stores which shoppers enjoy visiting."
Cosmopolitan capital
But despite the impact on other cities, many retailers and shoppers are united in their feeling that St David's has changed the face of shopping in Cardiff for the better.
Steven Madeley, St David's centre director, said it had created a more cosmopolitan capital which can compete with cities like Birmingham and Manchester.
"Before, Cardiff would close down at 5.30pm but now it's a much more 24-hour city," he said.
"Our shops are open later - 20% of our customers come after 5pm and we find people come shopping late, grab some food in one of the centre's restaurants then maybe go to a show or the cinema."
David Hughes-Lewis, spokesman for the Cardiff Retail Partnership, said his shop, Jonathan David Jewellers, had seen profits rise over the last two years, despite not being part of the actual centre.
"Speaking personally as a retailer in St Mary Street, our business has grown and the city is much, much busier - noticeably so," he said.
"People are coming from much further afield, like Swindon and Oxford. Cardiff now has a reputation as a fantastic shopping destination.
"You do get the odd retailer complaining that St David's has been bad for business but the shoppers are there so they should reach out to them and work hard to get them in their stores."
'Struggle to survive'
But Russell Scott Lawson, of Hawkes Essentials, in Morgan Arcade, said he knew of many independent retailers struggling in the city's historic arcades and he was worried many would not survive.
"The independents are the heart and soul of the city and I worry for the future of many of the shops in the arcades," he said.
"Our business is 10-20% down. It's hard to compete when the larger shops put on their sales before everyone else.
"Yes, they're probably bringing more people into Cardiff but that's being dispersed to more shops, so it's not having any effect."