Dylan Thomas Prize 2011 shortlist is announced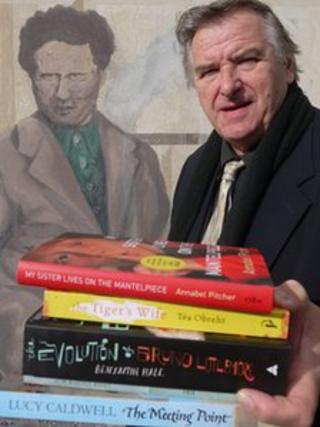 Three first-time novelists, including this year's Orange Prize for Fiction winner, are included on the shortlist for the 2011 Dylan Thomas Prize.
In all, five writers are in the running for the £30,000 prize.
Prof Peter Stead, who chairs the prize, said the shortlist "combined literary merit with readability which should arouse considerable interest amongst readers".
The prize will be awarded at a ceremony in Swansea on 9 November.
The first time writers are Yorkshire-based Annabel Pitcher, New York-based Benjamin Hale and Belgrade-born and New York-based Tea Obreht who was awarded this year's Orange Prize for Fiction.
With them on the shortlist are Canadian poet, blogger and literary critic, Jacob McArthur Mooney and Belfast-born and London-based Lucy Caldwell whose novel Where They Were Missed was previously shortlisted for the prize in 2006.
The prize, sponsored by the University of Wales, is one of the world's highest paying literary awards for young writers.
Launched in 2004 as a biennial competition, and first awarded in 2006, its prize originally stood at£60,000.
Last year the competition became annual, with the prize money halved.
It is open to all published authors in the 18 to 30 age group, writing in English, from anywhere in the world. It includes a variety of genres, including short stories, novels, poetry and plays.
'Varied shortlist'
This year's judging panel is chaired by Peter Florence, director of the Hay Festival.
As well as Prof Stead, the panel consists of American poet and academic Prof Kurt Heinzelman, poet, linguist and television presenter Dr Mererid Hopwood, former MP Dr Kim Howells, Daily Telegraph columnist and television arts commentator Allison Pearson, and inaugural winner of the prize Rachel Trezise.
Prof Stead added: "We had a very different kind of entry this year and this is reflected in a more varied shortlist.
"There really is something here to excite and challenge every kind of reader."
Previous winners of the prize include Elyse Fenton in 2010, Nam Le in 2008 and Rachel Trezise in 2006, whose careers, Prof Stead said, took off afterwards.
"We're looking forward to helping an equally talented writer to do the same," he said.
"We are, once again, delighted with the international flavour of the shortlist and we look forward to the five writers coming to Wales and talking to students in schools and colleges ahead of the award ceremony in November."
It is the third year that the University of Wales has sponsored the event.