Road grit supplies of councils in Wales 'highest ever'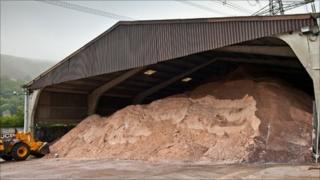 Stocks of road grit are at their highest ever levels in Wales after criticism when supplies dwindled in last winter's big freeze.
Cardiff, Swansea, Caerphilly, Blaenau Gwent and Flintshire councils have at least doubled their stockpile. Others have hundreds of extra tonnes.
Wales Local Government Association (WLGA) said it was "inevitable" said salt stocks could run down.
Temperatures plunged earlier this week but it is expected to get warmer.
Councils across Wales came under fire when supplies of grit ran short after snowfall and freezing temperatures arrived last November and stayed for weeks.
There were record low temperatures and drivers faced hazardous conditions as local authorities were forced to begin treating roads earlier than expected.
By Christmas, the WLGA was warning of dwindling stocks.
The Welsh government stepped in to give £7m towards fixing potholes and said national grit stocks would be shared with councils in most need.
Parts of Wales have already seen frosts this month but councils say they are better placed to deal with wintry conditions than last year.
Cardiff council, which was criticised last year for its response to the worst snowfall since 1983, has more than doubled its salt stocks from 1,800 tonnes to 4,000, with another 3,000 on order.
However, a plea for schools and community groups to buy £1,600 "snow kits" for freezing weather appears to have fallen on deaf ears.
No community groups or GP surgeries have taken up the offer, and just 12 of the 117 primary and secondary schools have bought the kits which include two gritting bins and a spreader machine.
Vale of Glamorgan said its 4,600 tonnes, which is the same as last year but almost double that of previous years, gives it enough for 80 days of continuous gritting.
Blaenau Gwent has adapted vehicles for moving snow and more than doubled its salt supply to 4,500 tonnes.
A spokesman for Monmouthshire council, which has thousands of extra tonnes, said: "Once the weather gets really bad the distribution is handled by the Welsh government and done on the basis of need.
"Since we were never in serious danger of running out of road salt, we were shifted down the waiting list in favour of authorities that were about to run out.
"This is despite having put orders in earlier than many others."
The WLGA said local authorities had stocked up on salt and were in a strong position.
More resilient
"Inevitably though, if we have an extended period of harsh winter conditions, snow in particular, stocks will start to run down," a spokesperson said.
"The steps that have been taken in preparation for the winter period will ensure councils are more resilient but, on cost grounds, it is not possible to carry a level of stock that eliminates risks completely.
"Local authorities, as in previous years, will work closely with the Welsh government to ensure a co-ordinated approach."
Salt and grit stocks in England are also reported to be at record levels, with two million tonnes amassed by the Department for Transport.
Paul Watters of the AA said: "Some Welsh councils were the first to run out of salt stock last year. They are better prepared now."
"If we have a cold winter, the critical factor is how long it lasts.
"If the existing stocks get used up, there are always re-supply issues but we are starting at a much higher base point than last year."
A Welsh government spokesperson said last year across Wales about 193,000 tonnes of salt was used.
"At the start of this year's season we already have approximately 228,000 tonnes in stock," said a spokesperson.
"This compares with 137,000 tonnes at this time last year. Orders have already been placed to top up stocks during December and January."