FUW worries for aspiring farmers over council sales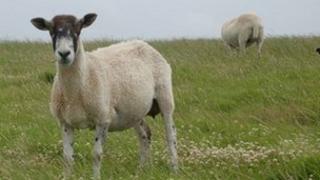 Aspiring farmers have been warned they may struggle to get into the industry as council-owned tenant farms are sold.
The Farmers' Union of Wales (FUW) said some councils look to dispose of farms once tenancies run out.
There are at least 400 such farms in Wales, and the union said they were extremely important for getting young people into the industry.
The councils with most tenant farms said they were trying to create estates that were viable and well-equipped.
A BBC Wales survey shows that tenant farms in Wales cover a total of more than 25,000 acres.
The 14 councils who replied to inquiries said that in the past five years they had sold a total of two farms, 19 farmhouses, five smallholding/farm units, and an orchard.
Rhian Nowell-Phillips, the FUW's deputy director of agricultural policy, said: "We're concerned that so many councils are selling them off, particularly those where they're coming to the end of their tenancy.
"When they're becoming empty, instead of putting them up for tender they're selling them. It's something that's engaged the union for some time.
"They've always been considered a valuable way of getting people started on the farming ladder. They're extremely important for getting young people in and new entrants in.
"It's one of the only opportunities that those without a farming background can get into the farming industry."
She added that farming was only going to survive and thrive if young people could get a foothold into the business.
Tenant farms were in the news earlier this year when BBC TV wildlife presenter Kate Humble announced plans to open a centre of excellence for rural skills on a council-owned farm in Monmouthshire.
The move was criticised by the FUW, which had received complaints that the farm was being sold off despite a waiting list for tenants.
Lack of security
The council agreed to Ms Humble's plan but also retained a 30% stake in the farm, which had been vacant for several months.
The Tenant Farmers Association (TFA) said demand was high for tenant farms but there were simply not enough opportunities available.
"There are issues with county councils looking at selling them off," said Sara Sumner, an advisor for the TFA.
"They're looking at them as a bit of asset. If they're not making money, they will look at earmarking them for sale."
She said another problem was the lack of security for tenant farmers as tenancies were often just a few years.
While many councils in Wales have no tenant farms, Powys, Anglesey, Pembrokeshire and Gwynedd alone have a total of about 350 farms covering 25,000 acres.
Powys council, which has the largest farm estate in Wales with 156 farm units covering over 11,000 acres, said it had sold smallholdings but was aiming to create a "core estate of viable, well equipped farm units".
"As part of this process, surplus dwellings and buildings are sold whilst farmland is generally retained for amalgamation with adjoining farm units," the council said.
Historic farm buildings
"Unless there are exceptional reasons for doing so, the council will not sell entire equipped farm units."
The council said that in a departure from this policy, it had recently concluded the sale of part of its Leighton estate.
"The sale was completed as a one-off to facilitate the regeneration of a range of historic farm buildings and included five smallholding/farm units," the council said.
"Separately, 12 surplus farmhouses have been sold in the last five years."
A Welsh assembly rural development sub-committee inquiry into the local authority farm system last year heard that financial pressures on councils were leading them to dispose of land and dwellings to raise funds.
Anglesey council told the inquiry about 80% of its dwellings were in need of repair and updating at an estimated cost of £5m, and it was being forced to sell off its smallest properties to finance improvements.
The council, which has 92 farms covering some 6,000 acres, told BBC Wales it had not sold entire farms but had sold five farmhouses "to rationalise the smallholdings estate and generate capital for reinvestment in the estate".
"We are currently undertaking a £5m-plus refurbishment of our farms," the council added.
Councils with fewer farms have also said they are looking to sell if the chance arises.
Newport council, which came into possession of its nine farms as a result of local government reorganisation, told BBC Wales: "As an urban authority, the council does look for opportunities to dispose of these assets but only when the opportunity arises."
Other councils which have sold farms or buildings in the past five years include Flintshire, Pembrokeshire and Torfaen.
The Welsh Local Government Association, which represents councils, said it did not wish to comment until it had discussed the issue with its members.