New chief executive for S4C is confirmed as Ian Jones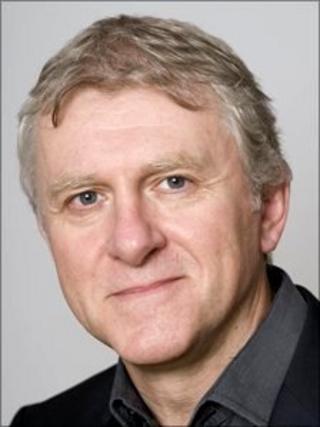 The new chief executive of S4C is to be television executive Ian Jones, the chairman of the Welsh language channel has confirmed.
Mr Jones, who started his career at S4C 30 years ago, is currently a managing director at A&E Television Networks in New York.
S4C hopes to have him in post by 22 April 2012 at the latest but is hoping for an earlier start date.
He will take over from acting chief executive Arwel Ellis Owen.
Mr Jones' present employer runs the History Channel and a number of other digital channels.
'Impressive career'
He started his career at S4C in 1981 before moving on to London Weekend Television.
He returned to work for S4C International in the 1990s and was deputy managing director at Granada Television, and president of National Geographic Television.
During his career he has also held senior roles at Scottish Television, United News and Media, Target Entertainment Group and was chair of the British Television Distribution Industry Association for two years.
Originally from Morriston, Swansea, Mr Jones was one of the team who launched S4C in 1982.
S4C chair, Huw Jones, said: "Ian Jones has had an immensely impressive career in the international television industry since being head-hunted from S4C in 1997.
"I'm very pleased he feels that the challenge facing S4C during the next few years is both exciting and attractive, and that he wants to return to Wales to be part of it with us.
"I'm certain his extensive and varied experience, his deep understanding of what creates a successful television service, and his reputation for establishing effective working partnerships, will be a huge advantage to S4C as he takes up the reins."
'Generous'
The channel has faced turbulent times recently. In July 2010, previous chief executive Iona Jones was dismissed suddenly after the channel's overseeing body the S4C Authority found it difficult to work with the S4C board.
Last month, languague campaigners took to the roof of the S4C building in protest about its future funding and proposed link-up with the BBC.
The UK government made the decision to hand over part of the responsibility for funding S4C to the BBC.
The changes are due to come into effect in 2013.
Meanwhile, Huw Jones said on Tuesday that the channel is to axe company cars and private health insurance for its staff.
He also told a broadcasting conference that S4C could still maintain its independence in a new partnership with the BBC.
Mr Jones said despite cuts to funding it will continue to make an important contribution to the culture of Wales.
BBC Welsh affairs editor Vaughan Roderick reports that the BBC Trust expects to approve a financial settlement for S4C lasting until the end of the current charter period in 2017 at a meeting on Monday.
The BBC's Wales trustee Elan Closs Stephens said the settlement would be "generous".