Novelist Catherine Fisher named young people's laureate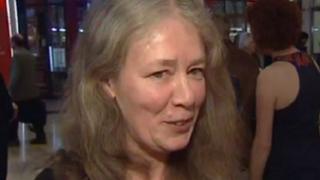 A writer from Newport has been named Wales' first Young People's Laureate.
Catherine Fisher, a former primary school teacher and archaeologist, is an award-winning author of fantasy novels for children.
She will be asked to inspire young people to read and be involved in creative writing.
Her appointment by writers' body Literature Wales was announced by singer Charlotte Church.
Literature Wales said the Young People's Laureate post is the first of its kind in the UK and aims to inspire young people in Wales to become involved with reading and creative writing.
A full-time writer specialising in myth and history, Fisher's futuristic novel Incarceron was optioned last year by 20th Century Fox.
Her novel The Oracle, which blends Egyptian and Greek elements of magic and adventure, was shortlisted for the Whitbread Children's Books prize, and the trilogy has been printed in more than 20 languages.
In 1989 she won both the Welsh Arts Council Young Writer's Prize and the Cardiff International Poetry Competition.
Fisher said the first book which caught her imagination was Alice in Wonderland, which was read to her by her father.
She said: "I loved it because it was was zany and surreal and it didn't make sense. It was magical.
"Kids and books need to be brought together. Kids love stories. Kids are naturally imaginative, when they engage with books, films, anything, they engage with it passionately.
"I know this from feedback I get from teenagers - they are totally into it.
"So you don't have to encourage them to use their imagination in that sense, you just have to give them things to imagine about - starting points, stimuli, things like that.
"Books are the form that my creativity takes, so they are important to me because of that, but creativity itself is important."
'Myths and landscapes'
Fisher said she often used Welsh myths and legends in her stories as well as incorporating Welsh landscapes.
The Wye Valley, for example, can be found as a landscape on another planet in her work Incarceron, she said.
Church, who shot to fame as a teenager with classical records before carving out a new career as a pop singer and TV presenter, said reading had always been an inspiration for her.
She reads to her children, Ruby and Dexter, up to an hour each day, she said, and the youngsters had a "massive library" of bedtime books.
She said: "I think it's massively important for parents to encourage their children to read and, obviously, their teenagers as well.
'Emotional release'
"I just think it's important for life - the more you read, the better your vocabulary is, the more able you are to converse with other people, whether that just be your family or your friends or a job interviewer.
"Also, writing creatively is, for me, a massive emotional release. You always draw from personal experience."
Literature Wales was formed in April this year when the authors' society Academi joined forces with the north Wales writing centre, Tŷ Newydd.
The new body continues to run events such as the Wales Book of the Year competition.