Rugby fans wake up for Wales but see their hopes dashed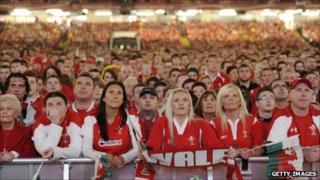 Don't stop believing - that was the message from Welsh rugby's choral mascots Only Men Aloud, keeping up spirits at half-time at a packed Millennium Stadium.
With more than 61,000 fervent fans creating a cacophony of sound under the closed roof of Cardiff's showpiece venue the atmosphere could hardly have been more intense had the World Cup semi-final been played here rather than relayed to the big screens from the other side of the world.
In fact the official attendance of 61,543 was almost 3,000 more than watched the match itself at Eden Park in Auckland, New Zealand.
The day had begun with such hope - and it was no ordinary match day in the Welsh capital.
Walking through the streets of Cardiff before dawn, groups of two or three red shirts swelled to a dozen or more before you reached a Millennium Stadium as busy as it would be for an afternoon kick-off.
It was a little less boisterous - the fans were still a little bleary eyed with sleep (or lack thereof) and had yet to hit the pubs.
"I've never been up this early for work, let alone rugby," was a typical comment.
Brian left Rhyl, in north Wales, at one o'clock in the morning to bring his souvenir stall down to Cardiff.
He's usually in town for all the big games but never this early in the day.
"I'm hoping there'll be some casual fans today," he said, hoping to cash in on World Cup fever.
"The regulars tend to arrive already kitted out with hats and scarves."
Notably absent were the burger vans which normally surround the stadium on match days, but takeaways and pubs were doing a roaring trade in breakfast burgers, hot drinks or something a little stronger.
A woman from Talbot Green appropriately named Dawn was tired but looking forward to the game with brother Dave and niece Emma.
"I have friends in New Zealand but reckon it'll be a Wales-Australia final," she predicted.
Being a live relay rather than a live match, home fans outnumbered the visitors even more heavily than usual.
But a brave group of French fans who struck up a rousing version of La Marseillaise flew their tricoleur with pride.
Even so, the vast majority of the crowd was rooting for Wales to win their biggest match for a generation, hoping to make that early start worthwhile.
With big screens dotted around the stadium and fans on the pitch, it was a strange mix of rugby match and rock concert.
Only Men Aloud were there to boost Welsh spirits by leading the singing of the national anthem, along with Tonypandy's Over the Rainbow star Sophie Evans.
Delight at an early penalty by James Hook turned to disbelief when captain Sam Warburton was sent off, with much comment about Irish-born referee Alain Rolland's French parentage.
At half-time there was relief that France weren't further ahead than 6-3, and unease when the lead stretched to 9-3 soon after the restart.
But the stadium erupted when Mike Phillips broke through French lines for a try to bring Wales back into the game at 9-8.
The scene was set for a nail-biting final quarter as Wales agonisingly failed to conjure up a drop-goal opportunity for Stephen Jones.
And with five minutes left the crowd momentarily believed in victory until they realised Leigh Halfpenny's long range penalty kick had landed just under the crossbar.
In the end it was not to be - there was disappointment among the home fans but applause and gratitude that "our boys" had done the nation proud.
As thousands left the stadium disconsolately there was much talk of whether a 15-man Wales team could have won the game.
One man's mobile phone rang out the famous song by Edith Piaf - "Non, je ne regrette rien".
The result wasn't ideal, but few Welsh fans will regret getting up so early on a Saturday morning to be part of the crowd.
For many, a stirring performance by Wales will give them hope that it won't have been only a once-in-a-lifetime experience.