Miner rescued after pit collapse in Neath Valley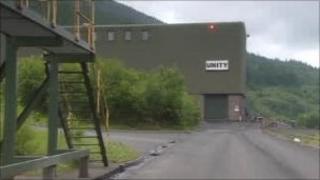 A miner has been rescued from a pit in the Neath Valley after he became trapped under rubble following a small roof collapse.
He was brought to the surface at Unity Mine in Cwmgwrach near Glynneath by colleagues and the Mines Rescue Team.
The man, 48, is in hospital where his condition is not thought to be serious. The fire service said nobody else was trapped.
It comes a month after four men died at Gleision mine in nearby Swansea Valley.
David Powell, 50, Charles Breslin, 62, Philip Hill, 44, and Garry Jenkins, 39, died after they became trapped in the mine which was engulfed by water on 15 September.
The two mines are just eight miles apart, as the crow flies.
Air ambulance
Emergency services, including firefighters, an ambulance, and the air ambulance were called to the Unity pit, which is a drift mine like Gleision, at about 09:30 BST on Friday.
The miner was treated for possible pelvis and spinal injuries by ambulance crews and was taken by air to the University Hospital of Wales, Cardiff.
The Health and Safety Executive said it was aware of the incident and inspectors were on site helping the police.
Welsh Secretary Cheryl Gillan said the latest mining incident would remind people of the tragedy at Gleision Colliery last month.
"I was extremely concerned to learn of this latest incident, but relieved the miner has been rescued," she said.
"I have asked to be kept fully informed during the investigation into this incident, which reminds us once again of the terrible accident at the Gleision Colliery just a few weeks ago."
Mid and West Wales Fire Service said they sent crews to the scene from Neath, Hirwaun and Abercrave, along with senior officers.
A spokesperson said that everyone had been accounted for and that nobody else was trapped.
Not life-threatening
"Mid and West Wales Fire and Rescue Service are not aware at this stage what happened and how the miner got trapped," they added.
A South Wales Police spokesman confirmed they were called to the mine.
"A man has been taken to the University Hospital of Wales in Cardiff by the ambulance service," he said.
"His injuries are not believed to be life-threatening. The Health and Safety Executive has been informed."
A spokesperson for the mine confirmed that there has been an incident there and that they would be issuing a statement later.
Unity Mine started production in 2007 and, at the time, owner Unity Power said it planned to increase production to one million tonnes of coal a year.
Like Gleision, Unity is a drift mine, which means that miners can walk into it from the surface rather than having to be transported down to the coal seams via a lift in a shaft.