Speedy Taff Trail cyclists in Cardiff told 'slow down'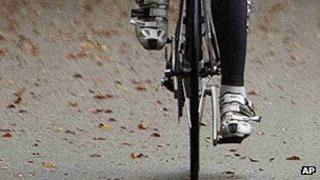 Cyclists using one of Wales' major cycle routes are being urged to slow down after complaints many are speeding dangerously there.
Community groups say they have had reports of people being knocked over and dogs being hit on the Taff Trail in Cardiff, which is popular with walkers.
A council conduct code is to be extended along the route, which runs from Cardiff Bay to Brecon.
But a charity said problems were not always the cyclists' fault.
The code of conduct was brought in after years of concern about the busy path.
Open to walkers, cyclists, and in some parts horseriders, the Taff Trail runs 55 miles (88km) between Cardiff Bay and Brecon, using the routes of former tramways, railways, canals and present-day canal towpaths.
Stephanie Wilkins, chair of Llandaff North Resident's Association, said she had received numerous complaints and heard of several accidents.
'Point to prove'
"Just recently an elderly gentleman was knocked over by a cyclist and my sister's dog was run over a few years ago," she said.
"I think commuter time is the worst and I know a lot of people don't use the path then because of the speed cyclists go at. I think some of them have a point to prove - they time themselves going from point A to B and just speed along.
"They often think it's just a cycle path."
She added that many residents who use Hailey Park, which the Taff Trail runs through, were concerned as it was a place "where children should be able to learn to walk and people walk their dogs".
Residents have also complained of speeding cyclists at another section, where the trail passes under the Taff Mead Embankment railway bridge, close to the city centre.
Grangetown councillor Francesca Montemaggi said the sloping path and poor visibility in the underpass made for dangerous conditions, and she was pressing the council to make the path wider at that point.
'Disrespect'
"The path is a concern to people and the issue has been raised at Pact meetings and residents' meetings," she said.
"I think the code of conduct is a step in the right direction as people need to be aware that they need to cycle at different speeds in different situations.
"Unfortunately, cyclists haven't got enough space on the road and motorists often disrespect them so we need to encourage people to cycle on the path - just in a sensible way. We don't want anyone to be hurt."
Vinny Mott, senior project manager at Sustrans Cymru, a charity which encourages people to use their bikes, said that raising awareness was key to improving the situation - but that everyone had a part to play.
"Cyclists should always take account of other users of the path. If it has other people on the path they should be cycling at a necessary speed and giving way, etc," she said.
"But sometimes the cyclist isn't at fault, for example when a dog runs out at it. So we shouldn't lay all the blame on the cyclist. Everyone has a responsibility to use the path sensibly."
The code of conduct has been trialled in Hailey Park, but will be extended along the trail into Bute Park.
Signs to promote it will also be made permanent.
Friends of Hailey Park action group said it was working with the council to tackle the "ongoing problem" and that its members plan to hand out information leaflets along the trail.