Developers sought for museum for medieval Newport ship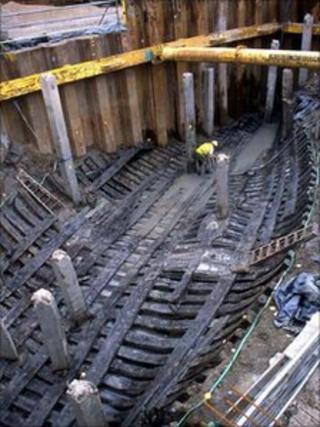 A medieval ship discovered on the banks of the River Usk in Newport in 2002 could be a step closer to finding a home.
Newport Council has put a tender out to developers asking them to recommend a suitable location for the vessel.
It is seeking a specialist company who would be able to provide a new museum based around the ship's history.
The vessel has been called the world's best example of a 15th Century ship.
Its medieval remains were discovered on the banks of the River Usk as work began on the foundations of a theatre complex.
Since then years of painstaking work on assessing and conserving some 1,700 waterlogged timbers which made up the vessel has gone on.
International maritime town
The conservation is due to be completed in 2014.
A council spokeswoman said: "This is the first stage in the wider process of finding a location to display and interpret the Newport medieval ship.
"We are seeking a specialist company to explore options for housing the ship.
"It could provide an excellent opportunity to tell the story of medieval Newport and its history as an international maritime town long before its development as an industrial port.
"Finding a suitable location is a complex matter and any recommendations will be thoroughly scrutinised by officers and members before proceeding further following this initial exploratory stage."
Once complete, the ship which is now believed to have originated in the south of France, will be some 25 metres long (82 ft), the length of an average swimming pool.
It is described as the largest surviving example of a medieval clinker built ship, a type of design where wooden planks are attached to a hull so they overlap each other.