Forced labour investigations across Wales by Soca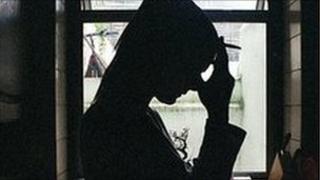 Factories, farms and hotels could be forcing hundreds of people across Wales to work against their will.
The Serious Organised Crime Agency (Soca) is conducting several investigations into forced labour across Wales, the BBC understands.
These businesses could be breaking new anti-slavery laws and employers may end up in prison.
The chair of the assembly's working group on people trafficking said boys as young as 16 were forced to work.
Joyce Watson said along with government action, the onus was on employers to ensure forced labour did not take place.
"What I found out was evidence of cannabis factory working which is obviously an illegal trade in itself," she said.
"What was happening then was they were being treated as the criminal not the victim."
Anti-Slavery International estimates 5,000 people are in some form of forced labour across the UK.
Most forced labour investigations have focused on women being trafficked into the British sex trade, but the BBC has learned Soca is investigating people being made to work in places such as factories against their will.
Bob Tooby, the anti-human trafficking co-ordinator for Wales, said it was happening on a national scale.
"As far as labour trafficking is concerned I know it's being perpetrated across Wales and I have now got evidence of that," he said.
He said there was a misconception that forced labour was happening on farms.
"It's not just happening on farms, it's happening in factories, hotels, bakeries, cleaning companies and so on," he said.
He confirmed that there are investigations now under way in Wales.
"We're in austere times at the moment and I think there are a lot of factory owners and manufacturers who feel it's great to get cheap labour... unfortunately the way that they're doing it is unlawful," he added.
A rough estimate by the charity Anti-Slavery International of how many people are in some sort of forced labour across the UK is up to 5,000.
Elaborate network
Mr Tooby said employment agencies were set up to employ hundreds of people - across Eastern Europe, or any part of the world.
These companies then sub-contract to other employment agencies so as to distance themselves from the trafficking.
It ends up with an employment company in the UK which sets up a contract with the farms, hoteliers and factories.
"Unfortunately what we are finding is that some of the workers are only being paid for an hour, when they are working for 10-12 hours," he said.
He added business owners risked prison by turning a blind eye to what was happening.
"If you see malnutrition, you see people suffering, being brought back and for in a coach and they don't seem to have any life, well start suspecting," he said.
"People can't be treated as slaves," he added.