Gladstone's Library opens Islamic House of Wisdom room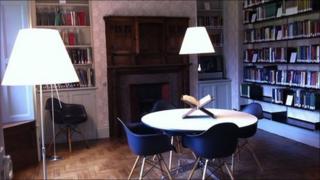 An Islamic reading room has opened in Gladstone's Library in Hawarden, Flintshire, to help promote inter-faith understanding and co-operation.
The library was founded by Victorian prime minister William Gladstone.
The room is called the House of Wisdom, after a library of the Islamic "golden age," the Bayt al-Hikma.
The library attracts global scholars to read its half-million books, while the House of Wisdom opens with 900 titles.
Warden Peter Francis said: "We hope this will be a valuable resource - both to scholars in the field and for those wishing to find out more about Islam and Muslim communities in the modern world.
"We have worked closely with Muslim communities in north Wales to make sure the resource is locally relevant and helps to promote inter-community understanding and unity in the area."
Originally known as St Deiniol's, Gladstone's is the UK's only residential research library.
It was founded in 1895 by the politician, who spent the latter part of his life about half a mile away in Hawarden Castle.
Gladstone donated £40,000 - or £3.4m in 2011 prices - and most of his own 32,000-strong book collection - which he delivered in a wheelbarrow, even though he was aged 86.
Mr Francis hopes that the House of Wisdom will be an addition which would have appealed to Gladstone's liberal sensibilities.
"As one of the key issues facing modern multicultural society and the international political order, relationships between Muslims and non-Muslims would certainly have been amongst Gladstone's central concerns," he said.
"And, within the context of his pragmatic politics and humanitarian principles, it is likely that inter-faith understanding and dialogue would have been at the core of his approach."
The House of Wisdom was opened by Prof Tariq Ramadan, an Oxford University Islamic scholar.