TALKadoption support project for young people in Wales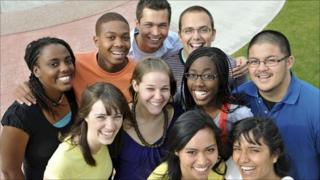 A project aimed at helping build the confidence of adopted children has been launched at the Welsh assembly.
Children, families and social workers told Assembly Members how TALKadoption Wales can use workshops and discussion groups to build self-esteem.
The three-year project, established by UK charity After Adoption, brings together adopted children aged 11-18.
It is funded by BBC Children in Need and helps children share experiences of growing up and explore their identity.
The charity says the aim is to improve self-confidence for those who can feel being adopted marks them out as different from those around them.
But Lynn Charlton, chief executive of After Adoption, said childcare professionals have as much to learn from the young people.
"TALKadoption Wales is designed to help not just young adopted people, but also all those who have contact with them over the years - from the children's services to prospective adopters," she said.
"By talking about their experiences and being involved in TALKadoption activities, these young people have a voice to tell people about their emotions, helping others support them in the best possible way."
While emotional problems can be more prevalent among young people who were adopted later in childhood, the charity says all adopted children can struggle with low self-esteem and a sense that they do not properly belong anywhere.
The project aims to help children realise these feelings are normal, and shared by thousands of others.
Graffiti art
TALKadoption Wales is launched on the back of similar projects in London and the north east of England, where children produced The Making of U, a book focusing on the issue of identity, which spent several weeks in the Amazon best-sellers list.
The Welsh pilot event last year saw young adopted people come together to make new friends and share stories through using graffiti art.
Ms Charlton said adopted youngsters have a forum to share experiences with others who have been in similar situations.
"The feedback from the groups has been extremely positive, with the mix of group sessions, workshops and activities enabling young people to build their confidence and make new friends."
The charity believes that the outcome can be bright for these young people, as adopted families are often amongst the most stable and supportive.