Bevan Foundation warns over 'online exclusion' in Wales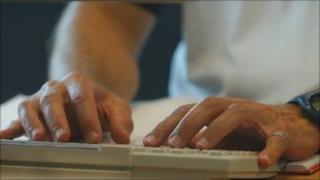 One in three people in Wales could miss out as public services go online, a report has claimed.
People without internet access already miss out on cheaper goods and services and and risk being excluded from vital public services, says the Bevan Foundation think tank.
Director Victoria Winckler said: "Nobody should be excluded because they are unable to use the internet."
The Welsh government said it was "helping break down the barriers".
The research looked at public services that are already available online and found many were not user-friendly.
It also found that while only a few services are delivered primarily online, such as self-assessment taxation by Her Majesty's Revenue and Customs and driving licensing and vehicle road tax by the Driver and Vehicle Licensing Agency, there is a move towards introducing more services in the next few years.
'Digital by default'
"The UK government says public services should be 'digital by default' - it is already pressing ahead with plans to put new benefit claims online in two years time," said Ms Winckler.
"The Welsh government is exploring how to put public services online as well. There is a real problem because the people who rely most on public services are the least likely to use the internet."
Iwan Rhys Roberts, of Age Cymru, said: "More does need to be done to allow older people to access and use technology as it can offer a vital portal to information and advice for them."
The researchers found nearly 200 computers are available free of charge in public libraries in Caerphilly county borough, but there are limitations on how useful they are, such as access not being available outside library opening hours and the blocking of some websites.
Ms Winckler, who co-authored the report, called for a Welsh standard for services.
"Online services need to be carefully thought through and tested with users to make sure they work, use ordinary language and are easy to navigate," she said.
The report concluded that there needs to be better public access to the internet, and support and training in using computers.
It added that strong leadership is needed to drive the delivery of public services online at the same time as making sure people are not excluded from them and that online services are of high quality.
"There's a lot going on but it's doesn't always quite hit the mark," said Ms Winckler.
"If people can't get to a library, or they're put off by how they're taught, they won't make the step to using digital services".
A Welsh government spokeswoman said: "Our digital inclusion framework outlines our commitment to helping break down the barriers for those who are digitally excluded in Wales and lies at the heart of our holistic approach to ensuring the benefits of digital Wales are felt by all."