Muslim chaplains connect communities to public bodies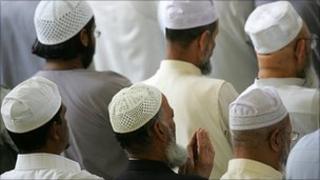 Muslim chaplains in Britain play a key role linking their communities with public organisations, research by Cardiff University has found.
It found a rapidly growing number of Muslims in a sphere of work usually associated with the Christian faith.
Chaplains can be found in prisons, hospitals, airports, courts, higher education and the military, with some people describing them as role models.
A conference at the university will discuss the project on Thursday.
The research involved interviews with 65 Muslim chaplains, both male and female.
It observed them at work, and spoke to the people they were working with.
Prophet's example
Led by Dr Sophie Gilliat-Ray of the Centre for the Study of Islam in the UK, it is aimed at finding out more about the background, training, role and impact of Muslim chaplains in Britain.
"Chaplaincy is a rapidly expanding sphere of work for Muslim religious professionals in the UK, but we know very little about the work and role of these chaplains," said Dr Gilliat-Ray.
"We wanted to answer questions such as: Who decides to become a Muslim chaplain? What is involved in Muslim chaplaincy practice? What is the impact of Muslim chaplaincy within and beyond the institutions they serve?"
Amongst the findings were the "strong Islamic" justification for chaplaincy work in a health care context, with chaplains citing the example of the Prophet Muhammad visiting the sick.
It also looked at how the UK government's drive to prevent violent extremism had affected the work of Muslim chaplains working in prison and higher education.
Strengthening faith
The project also found that female chaplains played a vital role in client-family relationships and negotiations, and that Muslim chaplains have mostly integrated well within multi-faith chaplaincy teams.
"Our work with Muslim chaplains has enabled an evaluation of some of the practical and theological challenges facing Muslim communities in Britain, and the broader accommodation of Islamic traditions to the dynamic of public life," said Dr Gilliat-Ray.
One Muslim young offender said the chaplain was an important role model for him, and helped to strengthen his faith.
"When you are around the Imam or when the Imam goes past you (in the corridor), the first words that normally come to you are like 'Assalamu alaikum' (Peace be with you)," he said.
"You are being reminded of Allah."
The research found Muslim chaplains are highly motivated in their work.
"I do love what I do, I love the responsibilities that I have, the role that I play, the awareness that I bring, the guidance that I give, the care that I provide, the shoulder, the ear that I give," said one chaplain.
"These are more rewarding than any position or salary, to me."
The outcomes of the project will be shared with participants in the first ever all-sector national conference on Muslim chaplaincy in Britain, taking place at Cardiff University on Thursday.