Atlantic Array wind farm: Exhibitions open in Porthcawl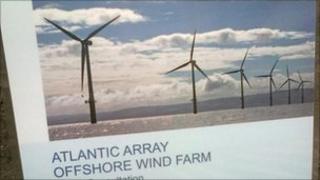 Plans for a huge offshore wind farm in the Bristol Channel are to go on show to people across south and west Wales.
Atlantic Array would be about 10 miles (16km) off south Wales and nearly nine miles (14km) off north Devon.
Developers RWE npower renewables say up to 417 turbines could power 1.1m households.
Meanwhile, the first minister has reiterated his frustration that big onshore wind farm decisions are to be taken outside Wales.
He warned that Welsh Government planning guidance had been overruled by Westminster.
Carwyn Jones, questioned by assembly members, said it meant large onshore windfarms could be built anywhere in Wales.
A consultation on Atlantic Array has been held in Devon and the first of seven exhibitions in Wales opens in Porthcawl on Wednesday.
It is thought the development will cover an area of sea similar in size to the Isle of Wight.
Developers claim it could provide the equivalent of more than 90% of the domestic electricity consumption needs of Wales.
It would be about three times the size of the Gwynt y Mor project which involves 160 turbines off the north Wales coast.
When the project was first unveiled four years ago, the cost was estimated at £3bn.
It is hoped the wind farm can be up and running by 2016.
Members of the public are invited to view plans and speak to the project's development team.
Robert Thornhill, development manager for the Atlantic Array Offshore Wind Farm, said: "The aim of holding seven exhibitions in seven different locations is to provide as many people in south Wales as possible with the opportunity to meet the team behind the project."
He said it would help them understand offshore wind energy and the benefits to the economy, the environment and communities.
"The responses and feedback we receive from local residents and businesses are essential as they will help shape the final report which forms part of our final planning application," he added.
An application for a development consent order is being submitted to the Infrastructure Planning Commission.
A public consultation has already started and will close on 10 November, 2011.
On Wednesday Mr Jones was being questioned by AMs about his government's onshore wind policy - called TAN 8.
Protesters claim it would lead to a heavy concentration of windfarms in parts of mid Wales, as well as large pylons and substations.
But Mr Jones said that TAN 8 had effectively been superseded by the UK-wide National Policy Statement - and neither local authorities nor his government would have any say over large applications in future.
He said: "There is no maximum capacity on windfarm development in the National Policy Statement.
"So it is the case that all parts - any part - of Wales could now get a planning application for a large windfarm, including all parts of Powys and there is nothing the Welsh Government, or indeed the local planning authority, could do about it."
Mr Jones called once again for powers to approve large energy projects to be devolved to Wales.
Mr Jones also told the Assembly's environment committee that his government would be taking a "precautionary approach" to shale gas extraction, also known as "fracking" in Wales.
He said that the Welsh Government were examining whether its rules needed to be tightened.
Previously, Mr Jones said having the UK government decide on future wind farm plans was a "slap in the face" for Wales and that it was unacceptable that planning decisions on wind farms in Wales were being taken in London.