Health minister Lesley Griffiths: NHS change 'not easy'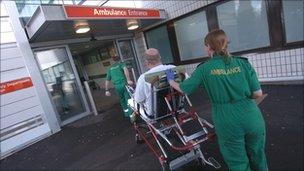 The health minister has warned of difficult changes for the NHS in Wales.
Lesley Griffiths told a public health conference that a big shake-up will take place over the next five years.
She pledged to "take the flak" for the changes which she says will not be easy for staff or patients.
Opposition parties have accused the minister of shirking responsibility by setting up an independent group to examine proposals by local health boards for change.
Ms Griffiths set out to answer her critics in a speech to the Public Health Wales conference where she said change was necessary.
The minister warned the health boards which manage local services that they could not let services "drift" by failing to modernise.
"Bringing about these changes will not be easy," Ms Griffiths said in her speech.
"They will not be easy for the dedicated staff that work in the NHS. The changes, in some instances, won't be easy for some patients to accept either.
"On a personal level, I know the changes will not be 'walk in the park' politically - there will be difficult decisions that will be made by LHBs that I may ultimately have to consider.
"However, and I would like to make this clear today, despite what ever flak lies ahead in delivering the bold policies we have for improving the NHS, or in making the right decisions for Wales on how services will be delivered in the future - one thing is for sure.
"I will not shirk from the work ahead because I know that change is necessary and in some cases long overdue."
After the speech, Ms Griffiths told BBC Wales: "We can't just make very narrow decisions. Not everyone's going to be happy.
"That's one of the reasons I announced yesterday the establishment of a national clinical forum, because I want to ensure all the plans from local health boards are made from a clinical perspective, not a political perspective."
She said any consultation had to be transparent but there should be no talk of downgrading.
Meanwhile, first minister Carwyn Jones and Conservative assembly leader Andrew RT Davies locked horns during the first assembly session of the term on Tuesday.
Mr Davies - elected as Conservative assembly leader in July - said consultants working for the Welsh Government had drawn up plans to cut 1,200 nurses, freeze recruitment and close some NHS facilities.
The first minister denied the work by consultants McKinsey was carried out on behalf of the government and said none of the cuts had taken place.
It is understood local health boards will submit their proposals for change and modernisation to Ms Griffiths in the next few weeks.
She has already announced an independent panel called the National Clinical Forum will examine the proposals on her behalf.
Conservative health spokesman Darren Millar said: "The establishment of this group is an attempt by the health minister to shirk all responsibility for the Welsh NHS.
"It's a cowardly move that seeks to pass the buck for future unpopular decisions which are a direct result of Welsh Labour Government policy."
Related Internet Links
The BBC is not responsible for the content of external sites.